LG Optimus Black coming soon says T-Mobile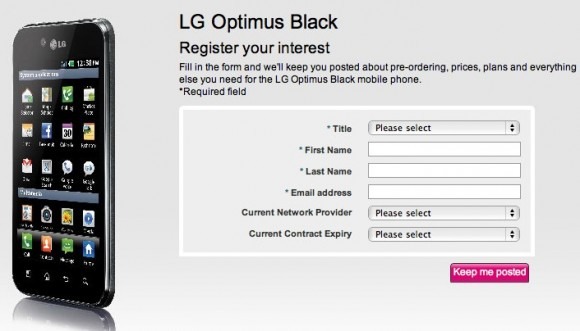 LG's Optimus Black smartphone looks to be almost upon us, with UK carrier T-Mobile throwing up a pre-interest page for early registration. Announced back at CES 2011, the Optimus Black may not have the 3D of its Optimus 3D sibling, but it does have a 4-inch NOVA display that's apparently 50-percent more frugal than the average LCD.
At announcement, all LG would say is that the Optimus Black was headed to market in the first half of 2011; it now looks like that estimate means sooner rather than later. Other specs include dual cameras – a healthy 2-megapixels up front, for higher resolution video calls once LG gets around to upgrading the handset to Gingerbread – and a chassis merely 9.2mm thick.
[via Android Community]