LG Optimus 3D Officially Launched Today, We Do a Hands-on and Unboxing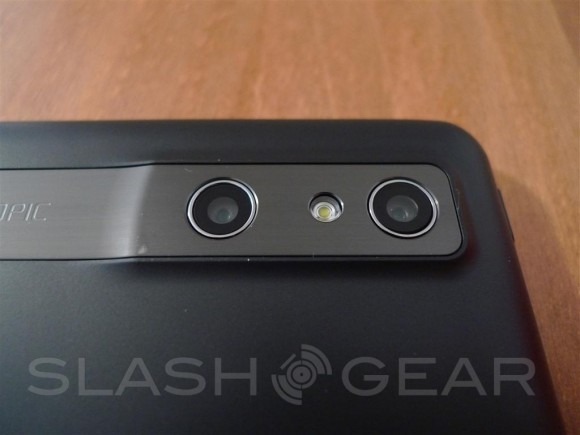 Today LG has announced the launch of the new Optimus 3D. We have seen this device many times recently so this wasn't much of a surprise. It was first revealed in February and we got a little hands-on a few days later. LG announced that the Optimus 3D will be launching today, most likely in an attempt to be beat the HTC EVO 3D to market. Today I have the LG Optimus 3D sitting in front of me so I decided to do another hands-on for you all to enjoy.
This beast of a smartphone packs a dual-core 1 Ghz TI OMAP 4 processor, a 4.3" glasses-free 3D Display, HDMI out, dual 5 MP shooters on the rear for 3D video capture, a front facing VGA camera and more. LG is calling this the first device on their "Tri-Dual" architecture. What does that mean — dual-core, dual-memory, and dual-channel. I guess you could even say quad-dual since it has dual 5 MP cameras also. The dual channel memory and ram as well as that blazing fast dual-core CPU and all those other features should basically make this one top tier device that can do it all.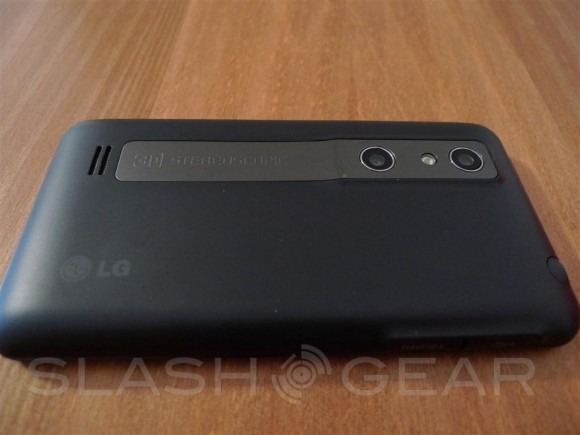 I was able to play with it for a while today and overall I'm really impressed. The Optimus 3D feels quite similar to the G2x and even has the same tapered edges on the screen but overall the build quality seemed a little better than that of the G2x. It has a lot packed into a relatively small space and it does seem a little heavy, but when you consider what all is inside I think we can all agree that a few extra pounds might be ok. The Optimus 3D was both heavier and larger than the recently released (and reviewed) HTC Sensation 4G, but it was a close match.
The Optimus 3D will launch on Android 2.2 from what we have been told and along with it comes all sorts of 3D apps and games bundled for our 3D enjoyment. From 3D Games like Asphalt 6 and NOVA and more available for download as well as custom 3D Gallery and 3D Camera apps all specific for this device. As we check out this device more over the coming days we will show you some of the cool features and the 3D glasses free display but for now some beautiful photos and a small video will have to be suffice.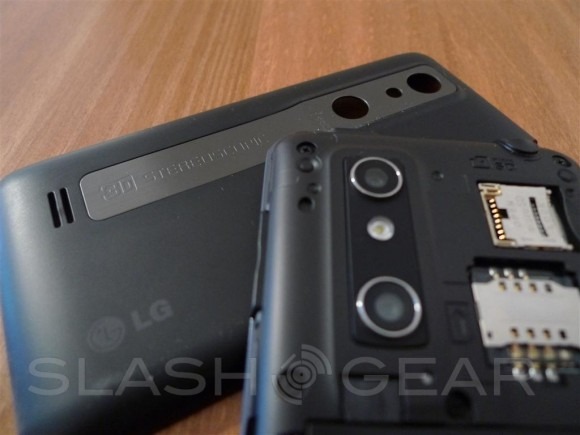 LG announced that the device is launching today (June 17th) starting in Europe and will be available in more than 60 markets around the world in the coming weeks but didn't give any more information regarding other markets such as the U.S so for now we will have to wait for more news. The wait shouldn't be long and soon enough you will be able to get your hands on this device. Maybe the LG Thrill 4G from AT&T? Check out the full press release and all the photos below.
Hands-on and unboxing video
LG ROLLS OUT OPTIMUS 3D, WORLD'S FIRST TRI-DUAL ARCHITECTURE SMARTPHONE WITH FULL 3D

Dual-Core / Dual-Channel / Dual-Memory Device Also Delivers Amazing 3D Experience

Seoul, June 17, 2011 – LG Electronics (LG) today officially launched the long-awaited LG Optimus 3D, an innovative new smartphone featuring second generation dual core technology and an advanced "Tri-Dual" architecture. First unveiled at Mobile World Congress (MWC) in Barcelona in February, the LG Optimus 3D offers a full 3D experience — recording, viewing, sharing — in a smartphone form factor.

The LG Optimus 3D takes the smartphone experience into new territory with its Tri-Dual configuration – dual-core, dual-channel and dual-memory – which allows for improved performance when multi-tasking, enjoying a movie or playing graphics-intensive games. This LG smartphone is also a major step forward in the utilization of full 3D functionality in everyday life – users can record and immediately view content in 3D without the need for special glasses.

"Tri-Dual architecture opens up a whole new world in smartphone performance," said Dr. Jong-seok Park, President and CEO of LG Mobile Communications Company. "As the latest offering in our Optimus line-up, we expect there will be significant interest from those who seek the very latest in smartphone technology and are excited about 3D as the next big frontier in mobile devices."

Peak Efficiency and Performance Powered by Unique Tri-Dual Configuration

LG's Tri-Dual architecture pushes the LG Optimus 3D's performance well beyond simple clock speed improvements. Other smartphones – even those with higher clock speeds and dual-core technology – suffer when it comes to actual performance because of the inefficiency inherent in a single-channel configuration. With a dual-channel configuration, data transfers take place simultaneously between the dual-core and dual-memory, resulting in noticeably faster performance. As a result, the LG Optimus 3D maximizes run-time efficiency leading to noticeably smoother, faster, and longer multi-tasking, browsing, gaming and multimedia enjoyment than ever before.

Full 3D Experience: 3D Recording-Viewing-Sharing

LG's full 3D concept transforms 3D technology from a novelty to a practical tool. 3D recording, viewing and sharing is faster and more convenient in the Optimus 3D and can be enjoyed without cumbersome glasses. LG's latest smartphone enables owners to capture high quality 3D content with 3D video stabilization technology and real-time misalignment correction algorithm which automatically corrects for shake during recording. And the smartphone's wide viewing angle makes watching videos and movies much more convenient and comfortable.

The 4.3-inch WVGA display offers bright and flicker-free images in HD, up to 1080p in 2D and up to 720p in 3D. Special software allows for real-time conversion of 2D photo and video content into 3D. Free software for converting 2D games will be available for download during the third quarter, letting users enjoy a variety of multimedia content in 3D. Captured 3D content can be shared with 3D TVs via an HDMI 1.4 connection and the phone can also send content to any DLNA Certified™ device. In addition, users can upload and stream 3D content on YouTube's dedicated 3D channel (www.youtube.com/3D).

The LG Optimus 3D also incorporates the world's first 3D augmented reality (AR) browser in collaboration with AR pioneer Wikitude. The browser will be available through an app downloadable from LGWorld (www.lgworld.com).

The phone will be available in Europe first, and then in more than 60 markets around the world over the next several weeks.