LG Optimus 3D 2 photo leaked, details included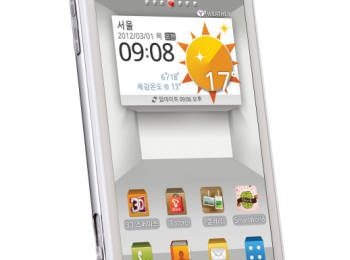 Leading up to Mobile World Congress 2012, we're seeing heaps of leaked images and details of devices in the mobile world, the latest being the LG Optimus 3D 2. This device is set to be the next generation 3D device from LG, the first being of course the LG Optimus 3D, and is set to trump the first edition with specifications that make it thinner, lighter, and as you can see – whiter. This device will also do away with capacitive buttons if our sources are correct, the front of the device relying on buttons from the operating system instead – but will it be Android 4.0 Ice Cream Sandwich?
The question remains as the leaks to not confirm the newest version of Android and the image we've got at the moment has an interface that could just as easily be Ice Cream Sandwich as it could be Froyo. This device sill have a few other cosmetic changes also, with the volume button and the 3D switch switching sides from the right to the left for this iteration. LG is setting us up for something brand new, but will it be a big enough change to bring us back after a slightly lackluster first edition?
This device also has the name LG Optimus 3D Max and will almost certainly share its 9.8mm thick body with the LG Optimus Vu at this year's Mobile World Congress. This 3D device is likely to have the same screen found in the Optimus LTE, hi-res IPS sharpness and all, and will be trumped only by the Vu in its newness. Follow the action via our [MWC 2012] portal and don't miss a beat at the end of this month!
[via OLED Display]