LG one-ups Samsung with Optimus G ad in Times Square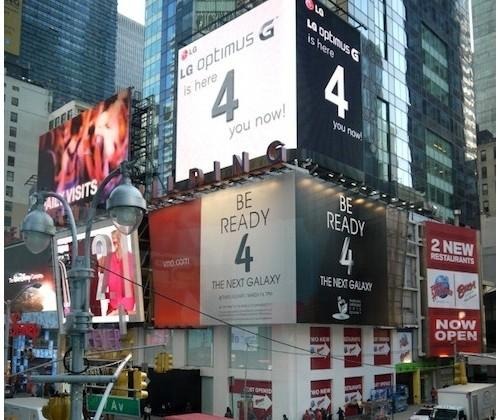 In an effort to promote their upcoming Galaxy S IV handset, Samsung has plastered Times Square in New York City with billboards and advertisements promoting the new device. However, LG has stepped in to rain on their parade with its own ad that mocks Samsung and the "4" theme. The ad, which is placed right above Samsung's billboard, promotes the company's new Optimus G.
Whereas Samsung's ad reads "Be ready 4 for the next Galaxy," LG's ad reads in a similar, but mocking tone with "LG Optimus G is here 4 you now!". Of course, LG has occupied that billboard space for quite some time, while Samsung only recently bought the advertising space right below it, but it's pretty obvious what LG is doing here.
However, we're not sure if LG did a great job in this case, since both of the ads look almost identical, meaning that someone just driving by and glancing at the billboards may not notice that they're actually different from one another, and due to Samsung's viral marketing of the number "4", most people may just quickly assume that LG's ad is a Samsung ad at first glance.
Either way, while this may not turn the heads of most people walking along Times Square, it may certainly ruffle some feathers at Samsung headquarters in Korea. Plus, we doubt the ads themselves will persuade anyone from getting an Optimus G. Marketing and advertising is a tricky industry, and it takes more than just a few billboards to persuade someone to buy a specific smartphone.
[via Android Community]