LG Nexus 4 photo samples leaked onto Google+

We've certainly heard a lot of rumblings when it comes to Google's upcoming Nexus device. It's about that time of the year when the company usually outs a new product, so it's really no surprise that Nexus rumors are flying around. The latest leak comes from a couple of Google and LG employees themselves who ended up posting photo samples from a mysterious device onto Google+.
Google employee Jason Parks and Bae Sang-Hoon of LG's Pyeongtaek Learning Center both posted image samples onto their respective Google+ pages, which have since been taken down on both pages, but that didn't stop people from taking some screenshots and saving the photos themselves — EXIF data and all — before they were taken down.
According to EXIF data, listed under "Camera" is the "Nexus 4," which we take will be an upcoming Nexus phone that apparently is already manufactured and being tested as we speak. We're not sure if the phone will actually be called the Nexus 4, or if it's just a working name or codename. Either way, we know a new Nexus is coming extremely soon.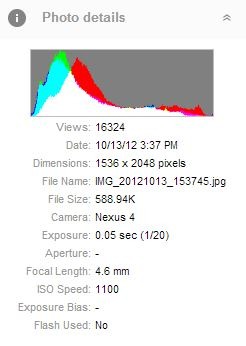 This also isn't the first time we've heard about the "Nexus 4." The phone showed up in the Carphone Warehouse's inventory system a few days ago, and then we heard about a rumored launch date of October 29 on the same day. Whether or not we'll see the phone that soon is yet to be known, but it will surely be soon.
[via Android Community]