LG Network Monitors: simple thin-client system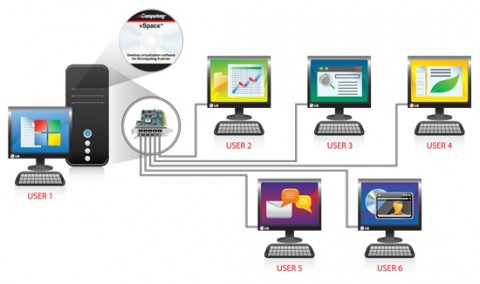 LG and NComputing have announced a new range of "Network Monitors", LCD displays with integrated thin-clients that can be used as virtual desktops or with cloud computing systems.  Unlike most thin-client systems, however, LG's looks straightforward enough for home or SOHO implementation, requiring just an X550 PCI card to be installed into the server PC, the included vSpace virtualization software installed and then up to five N-series monitors hooked up via ethernet cable.
Three N-series monitors will be available initially, the 17-inch N1742L-BF, 18.5-inch N1941W-PF and a 15.6-inch model only on sale outside the US.  Each has an ethernet port, for connection to the X550 PCI card, together with PS/2 ports for keyboard and mouse.  There's also a VGA port for using the display as a regular LCD with a local computer, plus built-in speakers.
Each server PC can use up to two X550 cards, allowing for a total of eleven users at any one time.  Both Linux and Windows are supported and, while no pricing for the displays has been released, LG are calling the X550 a "sub-$200" product.  It, plus the N-series monitors, will go on sale worldwide this month.
Press Release:
LG to Embed NComputing Technology Into New SmartVine N-series Monitors

LG Electronics, NComputing Join Forces to Create Industry's Lowest Cost Workstations for Desktop Virtualization and Cloud Computing!

Global electronics innovator LG Electronics and NComputing, the world leader in virtual desktops, announced a strategic partnership to produce a new category of LCD monitors that integrates NComputing's virtual desktop technology.

LG Electronics, which shipped more than 15 million monitors last year, will bring its high-volume scale and global distribution network to the alliance, while NComputing will contribute its award-winning hardware and vSpace™ virtualization software. The sub-$200 computing solution will further drive the acceleration towards desktop virtualization and "cloud computing" in which computing is centralized and done over the Web.

"The NComputing-LG partnership will significantly cut the high cost of computing for businesses, schools and government," said Stephen Dukker, chairman and CEO of NComputing. "We are delighted to work with one of the largest and most respected electronics companies in the world to bring our computing solutions to everyone."

Customers are increasingly turning to desktop virtualization, Software as a Service (SaaS), and Web-hosted applications to lower their IT costs. NComputing estimates that customers for LG SmartVine N-series monitors with embedded NComputing desktop virtualization technology can lower their computer hardware costs by 60 percent, maintenance costs by 70 percent, and electricity costs by 90 percent. The LG monitors work with both Windows and Linux computers.

"Our customers are taking into account not just the purchase price of computing, but also long-term costs connected to IT support, maintenance and electricity," said Ron Snaidauf, vice president of commercial products, LG Electronics USA Business Solutions. "Combining NComputing technology with our market-leading monitors creates the optimal solution for today's cost-conscious businesses."

In the United States, the LG SmartVine N-series line will include 17 and 19-inch* class monitors (models N1742L-BF and N1941W-PF) covering both standard and widescreen resolutions. A 16-inch* class model will also be available in other countries. All LG SmartVine N-series monitors can also be used as traditional monitors that connect through VGA for ultimate flexibility. These monitors will be marketed worldwide by LG beginning this month.

* N1742L-BF 17-inch class/17-inch diagonal

* N1941W-PF 19-inch class/ 18.5-inch diagonal

* 16-inch class model/15.6 inch diagonal

NComputing is the fastest growing provider of virtual desktops in the world and its technology is based on a simple fact: today's computers are so powerful that the vast majority of applications use only a small fraction of the computer's capacity. NComputing technology enables a single PC or server to be virtualized so that many users can tap the unused capacity and share it as if each person had their own computer.

LG Electronics is embedding NComputing virtualization circuitry inside the new SmartVine N-series monitors. Users connect their keyboards and mice directly to the monitor, which then connects to the host PC via a standard cable. An NComputing X550 PCI Card Kit with vSpace software enables the host PC to connect to five additional monitors. With two kits, a total of 11 users can share one PC.

"Demand for low cost, high value computing is expanding quickly, especially in light of recessionary pressures on IT budgets. The LG-NComputing partnership will help accelerate virtual desktop computing as a low cost, high value offering because it dramatically improves the economics and simplicity of end-user computing," said leading computer technologist Rob Enderle, Principal, Enderle Group. "In the coming years, as cloud computing becomes more mainstream, workers may simply link network enabled devices like this into the cloud without the need, or desire, for any local computing resources."

Since introducing the award-winning virtual desktop technology two years ago, NComputing has emerged as the market leader with over 40,000 customers and millions of people using their virtual desktops and vSpace software in over 140 countries. NComputing won the Wall Street Journal Technology Innovation award, the Gartner Cool Vendor Award, the Frost and Sullivan Green Computing award, as well as numerous awards from CES, Deloitte, CeBit, and ExpoComm.

For more information on the LG Network Monitors, go to www.ncomputing.com/LGNetworkMonitor or www.LGcommercial.com

About NComputing, Inc.

NComputing, Inc. is the fastest growing desktop virtualization company in the world. The company's award-winning, patented technology lowers desktop computing costs, improves manageability, and reduces both energy consumption and e-waste. It is the perfect solution for leveraging the power and potential of PCs and cloud computing. For more information, visit http://www.ncomputing.com.

LG Electronics, Inc.

LG Electronics Inc. (KSE: 066570.KS) is a global leader and technology innovator in consumer electronics, mobile communications and home appliances, employing more than 84,000 people working in 115 operations including 84 subsidiaries around the world. With 2008 global sales of $44.7 billion, LG is comprised of five business units — Home Entertainment, Mobile Communications, Home Appliance, Air Conditioning and Business Solutions. LG is one of the world's leading producers of flat panel TVs, audio and video products, mobile handsets, air conditioners and washing machines. LG has signed a long-term agreement to become both A Global Partner of Formula 1™ and A Technology Partner of Formula 1™. As part of this top-level association, LG acquires exclusive designations and marketing rights as the official consumer electronics, mobile phone and data processor of this global sporting event.

LG Electronics Business Solutions

The LG Electronics Business Solutions Company is a leading business-to-business (B2B) infotainment company, developing a broad range of top-class digital devices and solutions including LCD monitors, commercial displays, automotive infotainment and security systems. LG anticipates future business trends and provides unique devices and services that offer smart and reliable solutions to meet the needs of business partners and customers. With 2008 global sales of $4.3 billion, LG Electronics Business Solutions is poised for continuing rapid growth.

LG Electronics USA

LG Electronics USA, Inc., based in Englewood Cliffs, N.J., is the $13 billion North American subsidiary of LG Electronics, Inc., a global force and technology leader in home appliances, consumer electronics and mobile communications. The LG Electronics Business Solutions division of LG Electronics USA, serves customers in the digital signage, systems integration, lodging and hospitality, healthcare, education, government and industrial markets. Based in Lincolnshire, Ill., with its dedicated engineering and customer support team, LG Electronics USA Business Solutions delivers B2B technology solutions tailored to the particular needs of business environments. For more information, please visit www.LGcommercial.com.