LG Music Flow audio setup includes mobile control app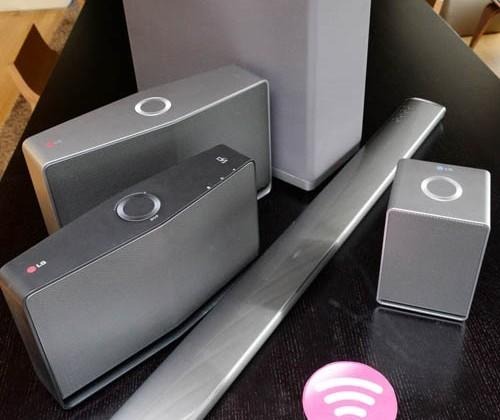 LG has taken the wraps off its new Music Flow speakers, as well as a new sound bar, network bridge, and an app that can be used to control it all. The setup provides audiophiles with mobile control over their home's audio arrangement, and includes things like recommended playlists based on the user's preferences.
LG hasn't revealed the specifications for the speakers, saying only that the H7 and H5 speaker models, as well as the Network Bridge, will be launching in the UK later this month, and elsewhere in Europe in September. The Sound Bar and H3 speaker model, meanwhile, will be launching across the globe sometime later on this year.
The Music Flow Player app and the setup's connectivity are the big selling points, offering an element of automation to one's entertainment system. LG says NFC tag functionality is included amongst the features, making it the first wireless HiFi home system that offers it. Internet radio stations can be accessed through the app in addition to one's local music.
LG's HomeChat is part of the setup, allowing users to use the messaging app Line to send messages to the Music Flow arrangement, doing so "in natural English". When away from home (or wherever the system is located), the Music Flow Player app doubles as a music player for one's mobile device.
SOURCE: LG