LG monitor has privacy control to change viewing angles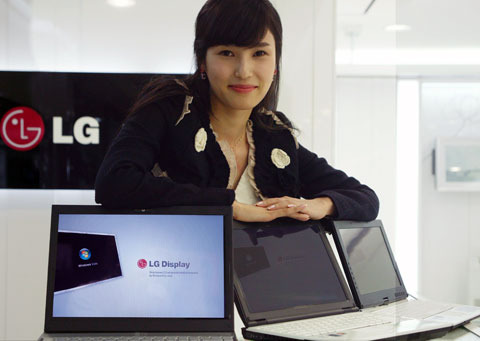 Apparently having a wider viewing angle notebook isn't always beneficiary working in a tight cubicle environment or public hotsports location like Starbucks or bookstore. LG Display has developed a 14.1-inch laptop's LCD panel with a privacy control feature; display with ability to change viewing angles, so the curious minds next to you wouldn't be able to see the information displaying on the screen.
The LCD panel is capable of 175-degree viewing angle, and could be adjusted to 60 degrees at each side with a dab on the screen. Traditional LCD display uses sub-pixels for the three primary colors, the LG Viewing-angle Image Control Display (VIC) has extra sub-pixel acts like a privacy filter that can be switch on and off to alter the screen field of visibility with no color shift effect. The narrower 60 viewing angle will block others from peeking into the screen at 30 centimeters away from the edge of the display.
The Koreatimes said the company has been using the VIC technology on mobiles devices and having one on laptop is a first. Starting this month, LG will begin the mass production of its VIC's laptop panel.
[via Nikkie]