LG LG9400 Maxx Snapdragon featurephone hits South Korea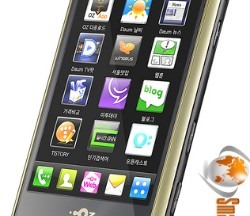 LG's 1GHz Snapdragon toting touchscreen feature-phone has been officially announced, having broken the water last month in a couple of leaked photos.  Then known as the LG LU9400, the handset is now apparently set to launch in South Korea on the LG Telecom network as the LG LG9400 Maxx, complete with a 3.5-inch touchscreen and optical trackpad.
Other specifications include GPS and WiFi, together with T-DMB mobile TV reception and a 5-megapixel camera.  There's also HD video support and DivX compatibility, complete with the 3D UI from previous LG Arena-branded phones.  Interestingly, the LG9400 Maxx uses Qualcomm's QSD8650 Snapdragon chipset, rather than the more common QSD8250.
The QSD8650 has the same processor and GPS as the QSD8250, but it pairs them with CDMA2000 1x and EVDO Rev 0/A/B modems rather than the GSM/EDGE/HSPA connectivity we're used to.  It's capable of up to 22M triangles/sec and 133M 3D pixels/sec, together with 720p HD video decoding.
LG have also promised to launch a Snapdragon-based device for carriers SK Telecom and KT "soon", though there's no public timescale as yet.
[via GSMArena]