LG LBA-C300 Bluetooth keyboard for cellphones: ideal for watch phone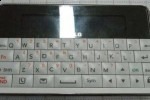 The FCC have passed an LG mobile peripheral, the "LG LBA-C300 Bluetooth enabled Qwerty Card", which at its most basic can be used as a wireless keyboard with LG cellphones.  However the LBA-C300 also has its own integrated display, and as such allows users to read new messages, and compose replies, without needing to take out their handset.
In addition, compact keyboard – which measures roughly 6 x 9cm – can be used to view contact information on the paired phone, as well as add new contacts.  It also has clock, alarm and calendar functions, and can be used as a stop watch.  Number keys mean it can be used to dial outgoing calls, useful if you're using a handsfree kit, and you'll also be able to remotely trigger the cellphone's camera together with reject incoming calls and set the phone to silent mode.
This seems like the ideal accompaniment to the LG GD910 Watch Phone, which goes into production in the second half of this year.  While the GD910 does have a touchscreen for input, together with voice-dialling, it would be a struggle to do any serious text entry on it.  With the LG LBA-C300, however, you could keep the QWERTY in your pocket until needed, and simply use the GD910 for calls day-to-day.  Hopefully LG will bring it along to MWC later this month.
[via Unwired View]