LG keeps building the monitors Apple should be making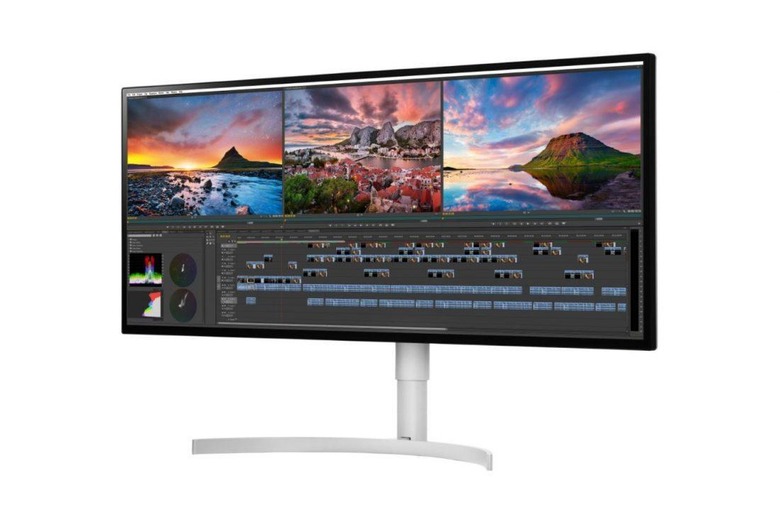 In the lead up to CES, LG revealed a new selection of monitors today that are definitely aimed at enthusiasts. The most impressive of these monitors is the 34WK95U, a 34-inch ultra-wide monitor that just so happens to boast a display resolution of 5K (5120x2160). While it sounds like this monitor will offer a lot to love from end-users of all backgrounds, that's especially true for Apple users who are looking for an external display to use with their MacBook Pro.
Like the other monitor LG is announcing today, this will ship with Nano IPS technology, which "involves the application of nanometer-sized particles to the screen's LED to adsorb excess light wavelengths." Essentially, this will result in more intense, accurate colors, something that's becoming more important to a lot consumers.
This also has the distinction of being LG's first 21:9 monitor. It comes with a built-in Thunderbolt 3 port, which means that you'll be able to use it as a display for your laptop while charging it at the same time. If you have something like a new MacBook Pro and you'd like a high-end monitor to go along with it, then this should probably be near the top of your list.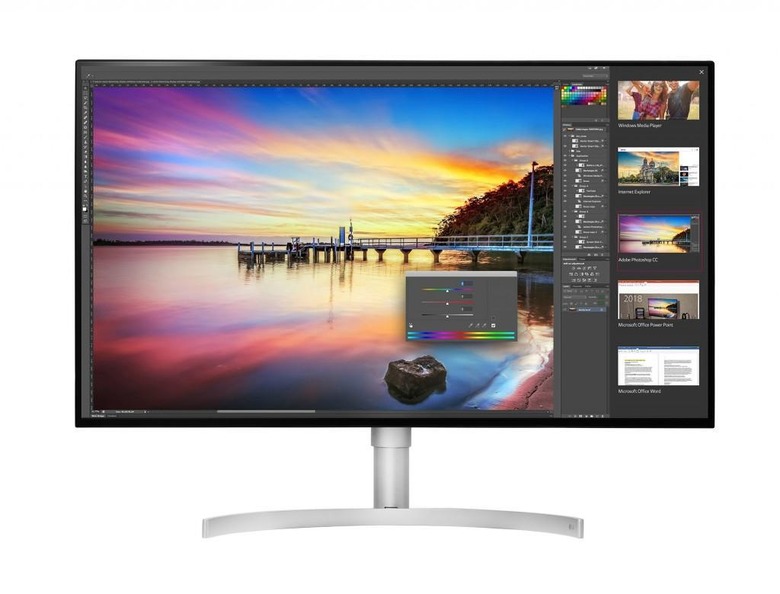 The second monitor LG is revealing today is the 32-inch 32UK950. This is similar in a lot of ways to the 34WK95U, with its support for Nano-IPS and its Thunderport 3 port (which also supports 4K daisy chaining, by the way), but with this one, you're limited to 4K resolution instead of 5K. Still, you get support for HDR600 in a monitor that can display 98% of the DCI-P3 color spectrum, resulting in a display that's "comparable to monitors used to master Hollywood blockbusters."
That LG is including a Thunderbolt 3 port on both of these monitors should be an exciting thing for MacBook Pro users. Most importantly, this means that you'll be able to use both of these monitors as an external display for your MacBook without the need for a USB-C to HDMI cable. That's great news because the last thing anyone needs is more dongles, but it begs the question: Why didn't Apple beat LG to the punch here?
It's frustrating that Apple's ongoing strategy seems to be leaving important parts of a desktop or mobile setup to third-party manufacturers. We know how great the end-user experience can be when there's a focus on cohesion between first-party Apple devices, so why is Apple leaving something like external display compatibility in the hands of companies like LG? While LG is more than capable of making top-end displays, the fact that we have to rely on third-parties to get the most out of our Apple devices leads to a subpar user experience that is distinctly un-Apple.
Perhaps the return of Jony Ive will be a turning point for 2018? One can only hope, but for now, it seems that LG is your best bet if you want a high-end display that will play nice with your MacBook Pro. Pricing and availability for these monitors weren't announced today, but we'll almost certainly find out more at CES next month.