LG Incite appears on AT&T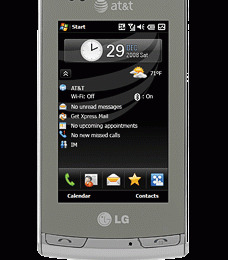 If you're looking to purchase a new smartphone, then you might be interested in the LG Incite. This 3G world phone offers up great features including a touchscreen for a super low price and you can get it now from AT&T.
Running on Windows Mobile 6.1, the Incite lets you utilizing MS Office documents and other items. It also features a 3-inch display with a 240 x 480 QVGA resolution. A 3-megapixel camera is also a noteworthy feature and a stylus gives your fingers a break when necessary.
With a haptic touchscreen and touch keyboard that can be used as a full QWERTY in landscape mode or a 20 key keyboard in portrait mode, all of your bases are covered. Other specs include WiFi, Bluetooth, aGPS, AT&T video share, a microSD memory card slot and more. You can pick up the LG Incite from AT&T now for $199.