LG HS8 curved sound bar promises beauty in sight and sound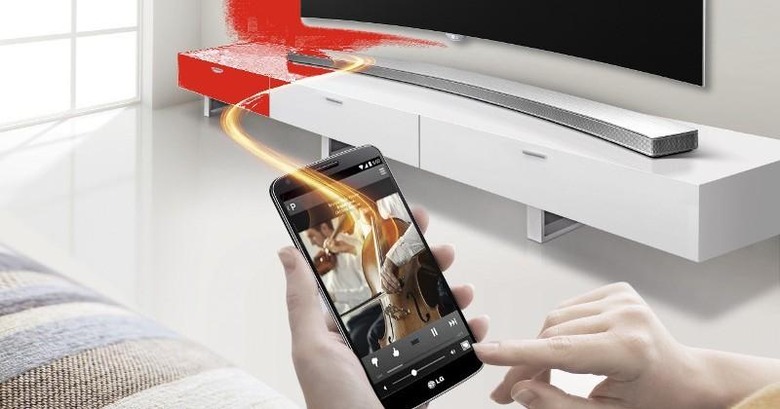 You may have had your fill of curved TV screens, but finding a sound bar to match that peculiar design isn't a walk in the park. LG is now offering such a solution in the form of the Music Flow HS8 Wireless Curved Sound Bar. Quite a mouthful for a name but it is also a mouthful in terms of features. The HS8 flaunts features like adapative i-Sound and Google Cast support, all to prove that it isn't just a pretty face to go with your pretty TV.
Let's take a look at those features. First is LG's dynamic i-Sound Mode. This feature is able to analyze what is being viewed on the TV and adjusts the audio settings appropriately so you don't have to do so manually. There's also support for Google Cast, which makes the sound bar a multi-purpose wireless speaker. Simply select the content you want to play from your smartphone and cast it to the HS8 for a lounder sound.
As part of LG's Music Flow family, the HS8 can connect to other Music Flow speakers in the house. This practically turns your home into one giant entertainment center. If, however, the speakers are all in one room, the Home Cinema Mode can be used to replicate the surround sound you'd normally only experience in theaters.
Of course, the HS8's most eye-catching feature is its curve, but even that isn't just for show, says LG. It aims to deliver a more immersive listening experience by influencing the direction of the sound. Plus, with tweeter at both ends of the bar, the reach of the sound is extended beyond what normal speakers or sound bars can.

LG hasn't yet revealed availability and pricing for the HS8 wireless curved sound bar, but the speaker will be making an appearance at IFA 2015 next month.
SOURCE: LG