LG HB954SP Blu-ray 5.1 home cinema system with iPod dock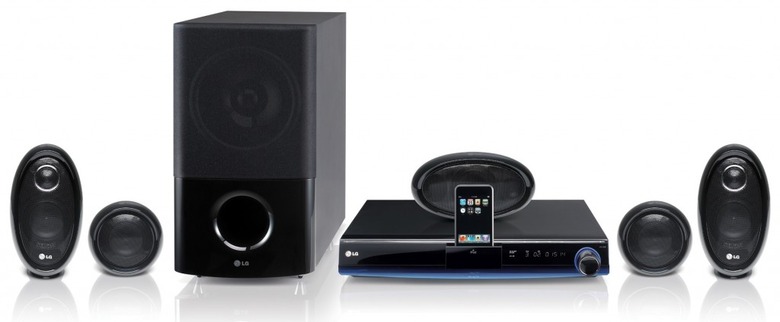 LG have announced a new home cinema system, and if you're a fan of globular satellite speakers and have an iPod then this might be worth a look.  The LG HB954SP Blu-ray HCS packs a Full HD 1080p video and 5.1 surround sound audio system into a compact, blue-tinged box, with 1,000W of audio tuned by ear-wizard Mr Mark Levinson.
A slide-out dock at the front takes your iPod or iPhone, and allows for control from the HB954SP's own remote, while the system can also upscale standard definition DVDs to 1080p.  An ethernet connection hooks the LG up to the internet, for streaming YouTube content and accessing BD Live content, plus there are two HDMI inputs and a USB port.
The company obviously knows that a big audience for home cinema systems are families short on space, since they've preloaded seven different audio tweaking profiles including one which shuts off the subwoofer; as LG say, then you won't wake any sleeping children.  LG haven't announced pricing for the new system, but it'll apparently land at retailers in November 2009.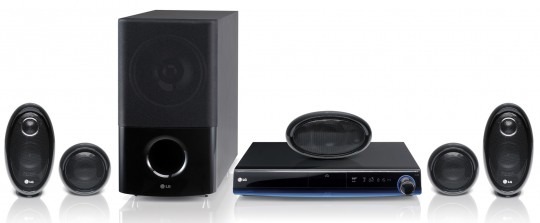 Press Release:
LG rolls out the red carpet to bring Hollywood home

The HB954SP Blu-ray home cinema system brings the best high definition picture, sound and online content into your living room

Berkshire, 8 October 2008 LG Electronics (LG), a global leader and technology innovator in consumer electronics, has launched its new Blu-ray home cinema system (HCS) – the HB954SP. With Full HD 1080p playback, 1000W of power and 5.1 channel output, the player is neatly packaged in a stylish design with five oval satellite speakers.

With Blu-ray technology and full HD (1080p) up-scaling, the quality of the image and sound have never been clearer, enabling you to enjoy every detail on the screen from your Blu-ray movies, as well as improving the quality of your existing DVD collection. Having specially tuned the system, Mr Mark Levinson, the international authority of high-end audio, ensures that the sound quality is nothing short of perfection – guaranteed to enhance the cinematic experience.

Enhancing its reputation of manufacturing cutting-edge technology, LG's latest system is packed with amazing features to access additional video and audio content. With one click access to YouTube, the world's favourite contents sharing site is available at your fingertips, giving access to more than 2.5 billion videos online from the comfort of your living room. The addition of BD Live means you also have access to extra content and downloadable features from filmmakers' websites. The HB954SP is also able to dock and charge your iPhone or iPod, allowing you to play your music collection through the home cinema system.

Sarah Thompson, marketing executive for digital media at LG Electronics, says, "LG brings the explosiveness and realism of the Hollywood blockbusters into your living room with our latest home cinema system. It is a testament to our endeavour to push the boundaries and create home entertainment solutions to suit everyone's needs, whilst incorporating the best quality image, sound, and online capabilities"

Designed for ease-of-use, the inclusion of the LG Sound Gallery offers seven simple options to enhance the sound being played to help you create the perfect ambiance in your home, complimenting any mood, so you can activate night mode to turn off the bass so you do not wake sleeping children. With 2 HDMI inputs, this also allows you to hook up other devices such as a game console, DVD recorder or HD satellite box offering great connectivity,

This system will be available from November 2009 from major retailers and independents.

HB954SP

Features:

· 1000W audio system, specially tuned by Mr Mark Levinson

· Playback Blu-ray discs in Full HD

· Stream YouTube videos

· iDock – connect your iPod or iPhone and control it all from the remote control

· 2 HDMI inputs

· Full HD 1080p upscaling of standard DVDs

· LG Sound Gallery

· BD Live – download extra movie content via the internet

· Touch sensitive controls

· USB playback

· Optical input