LG GD910 watch-phone to cost £500 with contract?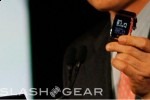 Rumors have been circulating regarding the eventual street price of the LG GD910 watch-phone that will hit Europe with carrier Orange.  Although neither LG nor Orange have publicly stated the likely selling price for the touchscreen handset, which uses Bluetooth to communicate with a hands-free headset, it's expected to be priced at £500 ($725) with a minimum £40 ($58) monthly contract.
Over the twelve months of the contract, that works out to a total minimum cost of £980 ($1,422).  Although the watch-phone is being positioned as a premium product, the cost will nonetheless surprise the UK market; new handsets, even those which would be considered high-end, can generally be found free or heavily subsidized, as the UK carriers fight to keep users and poach them from rivals.
The LG GD910 watch-phone has a 1.43-inch touchscreen, voice-recognition and full 3G HSPA connectivity.  In addition it supports video calling, using a face-mounted camera.