LG GD510 "Pop": style & solar charging, but short on specs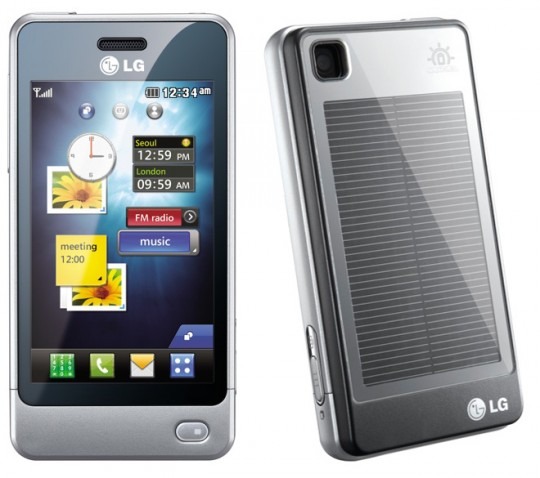 Sometimes a gadget comes along that is so pretty that, when you realise it has a spec-sheet more barren than the Sahara, you can't help but tear at your chest and roar.  LG's GD510 "Pop" isn't quite so bad as all that, but it's a handsome 3-inch touchscreen phone – the most compact ever with such a screen-size, they say – with a brushed aluminum body that throws out most of the things we take for granted in today's handsets.  WiFi we can live without, but a handset lacking 3G?  For shame!Video demo after the cut
There's also a mediocre WQVGA LCD panel and a multifunction button that's used as a home-key normally and a call/end button while in the dialler.  Internal memory is a reasonably healthy 8GB, plus there's a 3.5mm headphones jack and 3-megapixel camera (though no flash).
LG will also sell you a replacement battery cover that adds solar-charging to the GD510.  No word on pricing, but it'll apparently land in Europe come mid-October and "other markets" after that.
Press Release:
A Touchscreen Phone That Has Never Been Simpler To Use

Seoul, Korea / September 30, 2009 – LG Electronics (LG), a global leader and technology innovator in consumer electronics, today unveiled the LG GD510, or more simply, "Pop", the most compact 3-inch full touchscreen phone ever made. The LG GD510 is the handset people who want a simple touchscreen phone have been waiting for.

LG has been one of the industry's leading innovators in touchscreen phones since it launched the world's first full touchscreen phone, PRADA Phone by LG, in January 2007. Since then, the company has achieved great success in the touchscreen devices market by creating an array of handsets designed to meet different consumer needs. For instance, LG's Cookie (KP500) is an affordable full touchscreen phone that has already sold more than 7 million units worldwide since its launch earlier this year. With the LG GD510, LG is applying its tried and true strategy to another new model – this time, to a compact full touchscreen handset.

LG's consumer research showed that a large group of consumers wanted the functionality of a full touchscreen phone without the extra bulk and unnecessary features that resulted in higher prices. According to the research, many users were also put off by the complexity of feature-laden phones but still desired the easier navigation and larger screens of full touchscreen phones. The LG GD510 was designed to include the key features these users craved, without the overhead of features they didn't use.

"We gave the LG GD510 an optimized feature set which allowed us to concentrate on making the phone more compact and simpler to use," said Dr. Skott Ahn, President and CEO of LG Electronics Mobile Communications Company. "Our high-end phones like the Black Label Series New LG Chocolate (LG BL40) may be getting all the attention but there's a gap in the market for affordable touchscreen phones that we want to fill. The LG GD510 delivers all the essentials in communication, multimedia and entertainment and comes in a compact form factor as well."

Fully fluent in multimedia, the LG GD510 plays music and movies in several popular file formats and 8 gigabytes of internal memory provides plenty of room for storing large collections. An easy-to-use browser brings all the best mobile content to the device's large screen and a 3.0 megapixel camera captures high quality photos and videos for sharing online or sending wirelessly to friends.

The spacious 3-inch WQVGA touchscreen extends almost to the edges of the LG GD510 with a narrow 4.8 mm bezel giving the illusion of an uninterrupted sheet of glass. The unit's sleek design is accented by a single button on the face that functions as the menu, end and cancel keys, depending on the phone's mode. A slim strip of light around the button shines either green or red to indicate the handset's function. The LG GD510 is crafted from brushed aluminum which gives it a high-end look and feels solid in the hand even when squeezed.

LG GD510 will be available beginning in mid-October in Europe, followed by other markets. Prices will vary country-to-country and will be announced separately in each individual market.