LG G8 renders show an unimpressive old design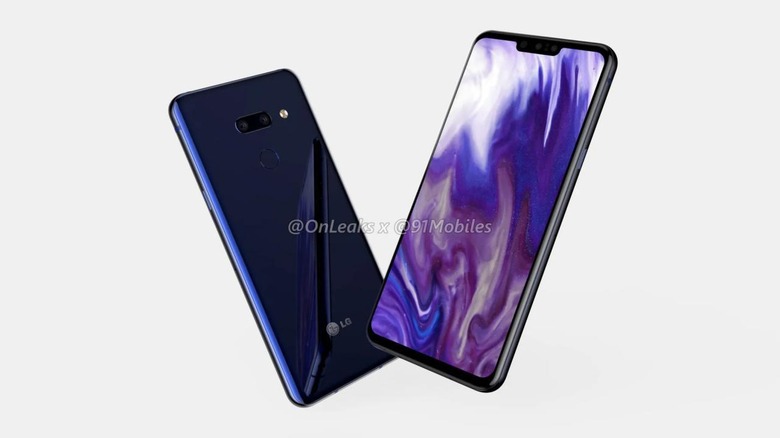 If LG is planning to wow the crowd at MWC 2019, it will probably not be with the LG G8, most likely called the LG G8 ThinQ. That is if LG is still going to stick with the G naming. Its titular flagship, the G8, codenamed "Alpha", is probably going to be positioned as the smartphone "for everyone else" that's not interested in fancy foldable screens, sliders, or other gimmicks. But if the details that arrived together with these 3D renders are the real deal, consumers might have little reason to prefer the LG G8 over last year's LG V40 ThinQ.
For one, the design hasn't changed that much actually. You still have a notched screen in front with what seems to actually be an even thicker forehead. There are suggestions of dual selfie cameras, like on the LG V40, though that has yet to be confirmed.
The back has changed slightly, though not all in good ways. The camera array is now horizontal rather than vertical but it still has only two sensors, just like the LG G7. There seems to also be the noticeable absence of LG's favorite Laser AF.
As for specs, the LG G8 might actually run on last year's Snapdragon 845, depending on when LG plans on launching it. If so, it will be on the exact same footing as the LG V40. 91mobiles and @OnLeaks, who collaborated for these renders, suggest the phone will indeed sport that fancy "sound on display" speaker, which may sound (no pun intended) more like a gimmick at this point.
Will the LG G8 have that rumored second screen attachment? Again the renders suggest no, considering the presence still noticeable bezels at the sides. All signs seem to point to the LG G8 as being a rather "normal" early 2019 smartphone, which could either be a relief to some consumers or too boring for those who want a unique phone this year. Of course, it could all be just mistaken speculation. Taking to Twitter, LG Electronics communications head Ken Hong confirms that the renders are "not real". We'll know soon enough when MWC 2019 rolls around.
Correct, not real.

— Ken Hong (@visitken) January 18, 2019