LG G7 ThinQ hands-on: AI camera, Boombox and a notch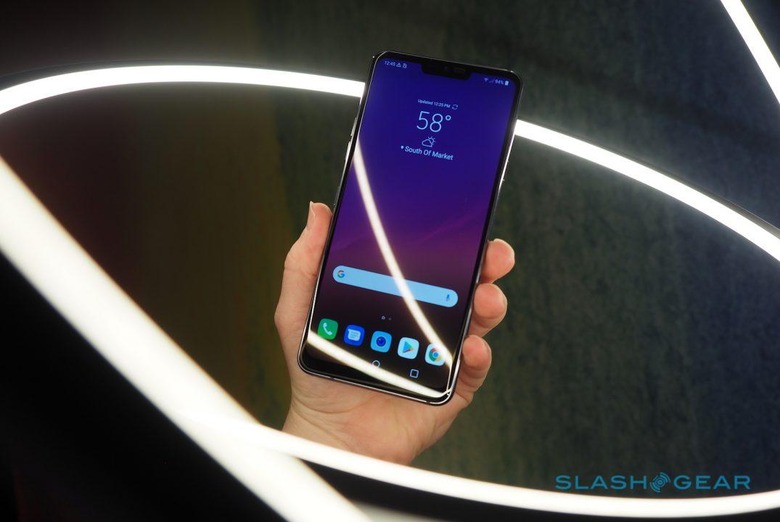 In some ways the new LG G7 ThinQ shares more in common with the LG V30, than it does its G Series predecessors. The smartphone company's 2018 Android Oreo flagship is its latest bet on artificial intelligence (AI) as a mobile must-have, baking machine smarts into everything from the camera to dedicated hardware. As I found out when I tried the G7 ThinQ myself, in some ways that works better than others.
LG joins the 2018 Android top table
As you'd expect, LG has raided Qualcomm's latest chipset bin, and the G7 ThinQ packs the Snapdragon 845. For the US, it's paired with 4 GB of RAM and 64 GB of ROM. Try not to be too frustrated when you hear that some international markets will get a 6 GB / 128 GB version instead.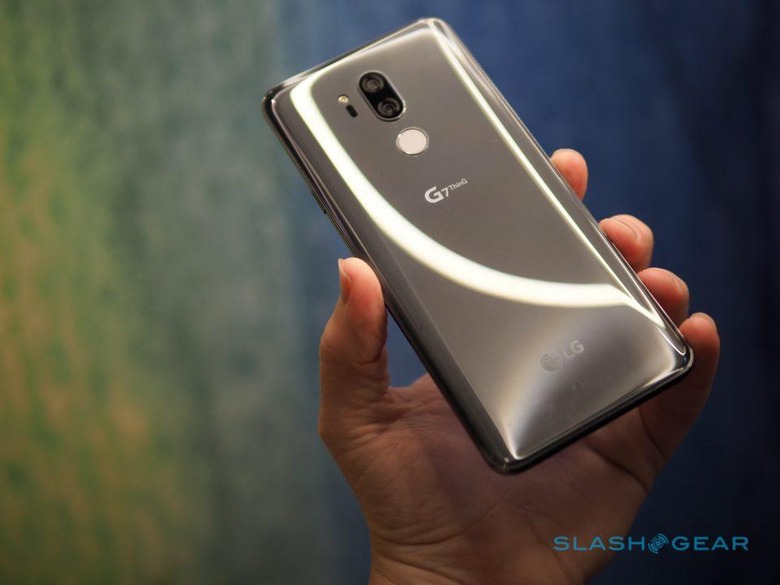 It measures 153.2 x 71.9 x 7.9 mm, and you get a 3,000 mAh battery. No wireless charging, sadly, but there is at least IP68 water and dust resistance. LG's design is fairly sober, though does at least feel good in the hand; the metal trim around the edge is pleasing, and the fingerprint button on the rear, underneath the twin cameras, is easily reached. It'll be offered in Platinum Gray, Aurora Black, Moroccan Blue, and Raspberry Rose.
Yes, there's a notch
LG isn't immune to the notch trend that's sweeping the smartphone industry right now, and sure enough in its hunt for minimal bezels the G7 ThinQ gets a cut-out at the top of its 6.1-inch QHD+ FullVision display. You do at least get a choice as to whether you see it, however: flip a toggle in the settings and the G7 fills in the top with a clean horizontal bar instead.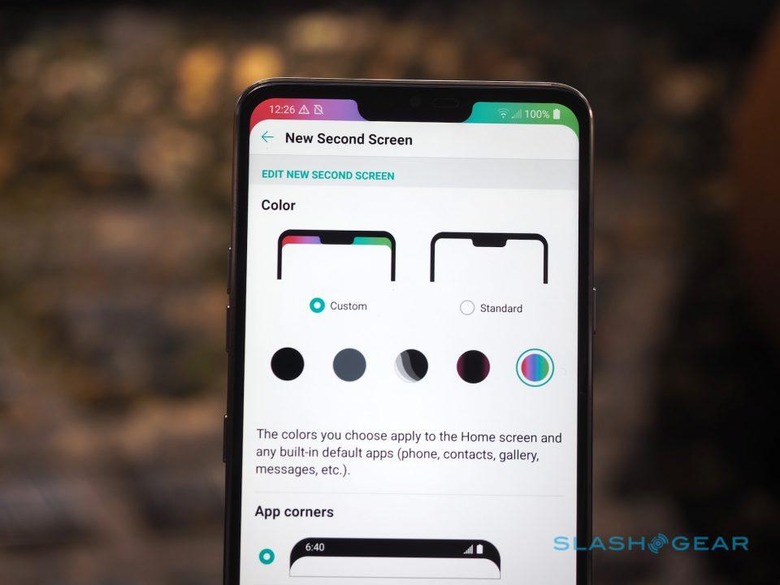 According to LG, the notch has allowed one of the company's previous display experiments – the second screen on the V30 – to evolve once more. There's no dedicated secondary panel, true, but it does keep the notification icons out of the way of what else is on-screen. You can even choose to give the top bar a different color treatment, if you prefer.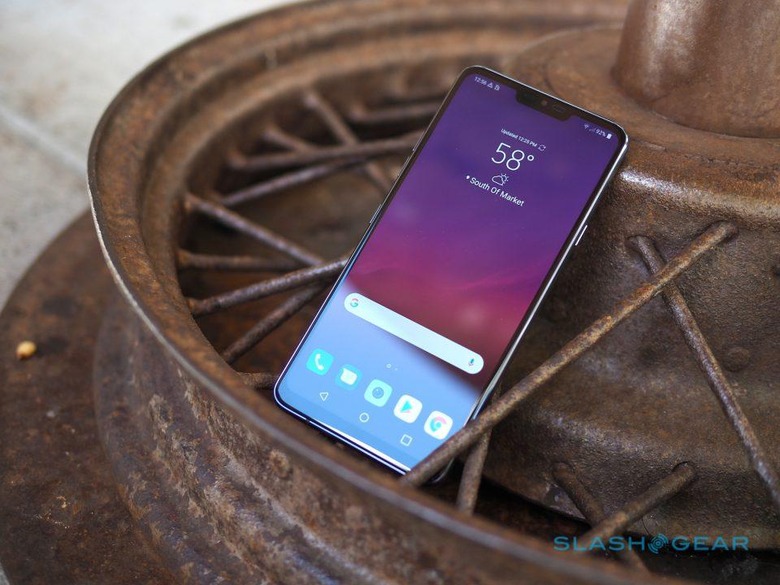 The panel itself is, unexpectedly, an LCD rather than OLED. There are a few good reasons for that, not least that LG has baked in a dedicated white pixel for extra brightness. Usually the G7 ThinQ will reach 800 nits, but toggle the outdoor brightness mode and it's boosted to a hefty 1,000 nits. At the same time, LG claims the panel uses 35-percent less battery than before, while still supporting things like HDR.
AI and wide-angle for the camera
Unlike most of its smartphone contemporaries, LG continues to eschew a telephoto lens. Instead, the G7 ThinQ's second rear camera has a wide-angle lens instead, offering 107-degrees and f/1.9 to fit more in the frame. Like the regular, 71-degree f/1.6 camera it's alongside, it uses a 16-megapixel sensor. On the front, there's an 8-megapixel, f/1.9 camera with a 90-degree lens for selfies.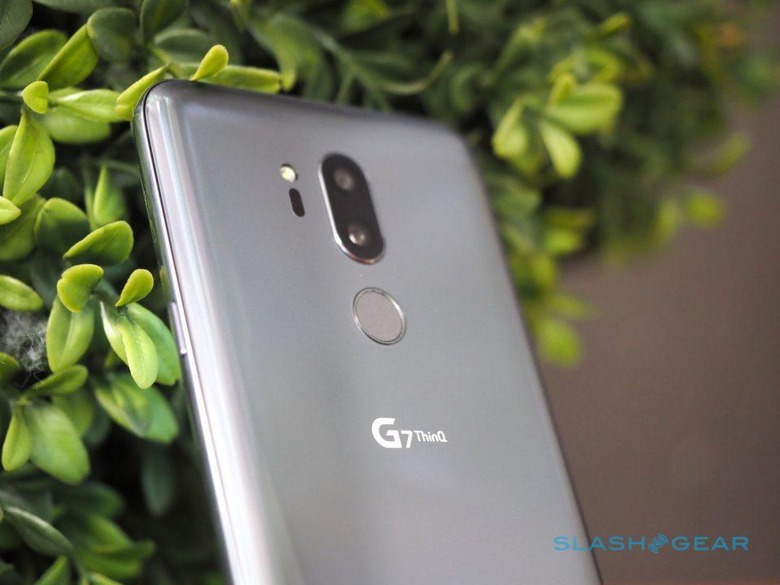 There's a portrait mode, of course, achieved by combining the two sensors on the back or using software trickery for the selfie camera. Either way, you can adjust the amount of blur in the background. LG is using "pixel binning" too, for its new Super Bright mode. That combines data from four adjacent pixels into one, for what LG claims would be a fourfold increase in brightness in sub-2-lux conditions versus the old LG G6. In a situation that dark it'll automatically enable; in a 3-10 lux situation it'll prompt the user to turn Super Bright mode on.
The other big selling point for the G7 ThinQ is LG's use of artificial intelligence. We saw the first signs of that earlier this year, with the update pushed out for the V30 among other phones. In this new handset, however, the AI auto mode promises to be even better at adjusting camera settings according to the scene it recognizes.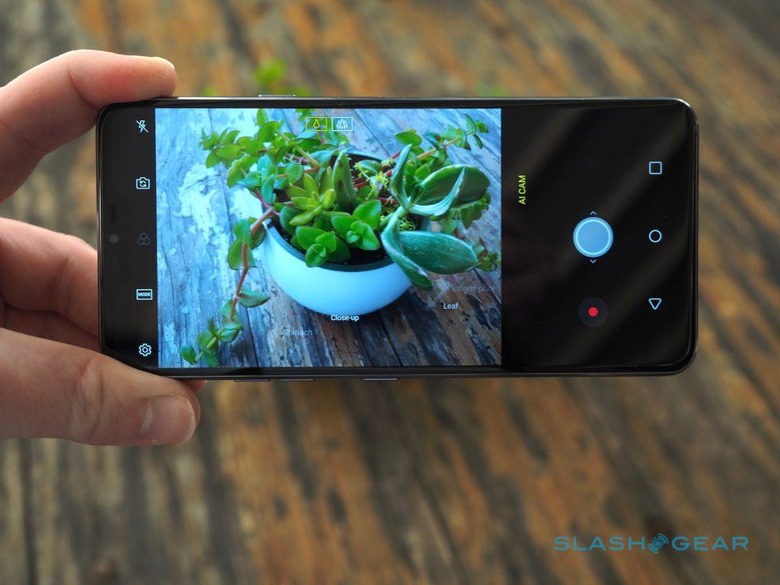 Hit the AI CAM button in the camera app, and the G7 will attempt to identify what it's being pointed at. There are eighteen different categories – person, flower, pet, food, sunset, sunrise, landscape, city, baby, animal, beverage, fruit, sky, beach, snow, people, lowlight, or basic – and the phone gives a little haptic buzz when it's settled on one.
It's not exactly instantaneous, mind. Whereas I found the Huawei P20 Pro to settle on a shooting mode almost immediately after you frame a scene – though not always the one I'd necessarily choose myself – the G7 ThinQ could ponder away for several seconds before making a decision. During that time various possibilities float through the viewfinder; it's only when a stable icon lights up in the lower right corner, though, that a mode is decided on. LG did point out to me that the handset I was using was on non-final software – I'm not, for the same reason, sharing any actual shots I took with the phone – so things will hopefully improve by the time it goes on sale.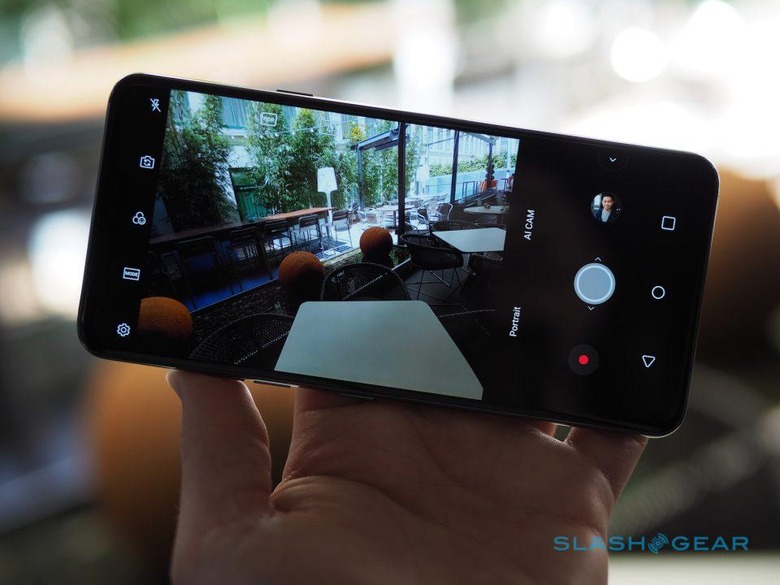 The other AI application is instant filter suggestions. The camera can use more than a thousand image identifiers to categorize what it's being pointed at; then it offers up four filter recommendations that can be switched between in real-time. Each adjusts elements like contrast, saturation, and color.
LG's audiophile reputation is preserved
LG smartphone buyers have been spoiled in recent years with high-end Quad DAC audio components, and the LG G7 ThinQ continues to carry that torch. Specifically, it gets the new ESS SABRE ES9218 DAC, with a MQA renderer, 75 stage volume control, and adjustment over L/R channel balance. There's also DTS-X Virtual Surround support, capable of delivering 7.1 channel surround sound with wired headphones or speakers.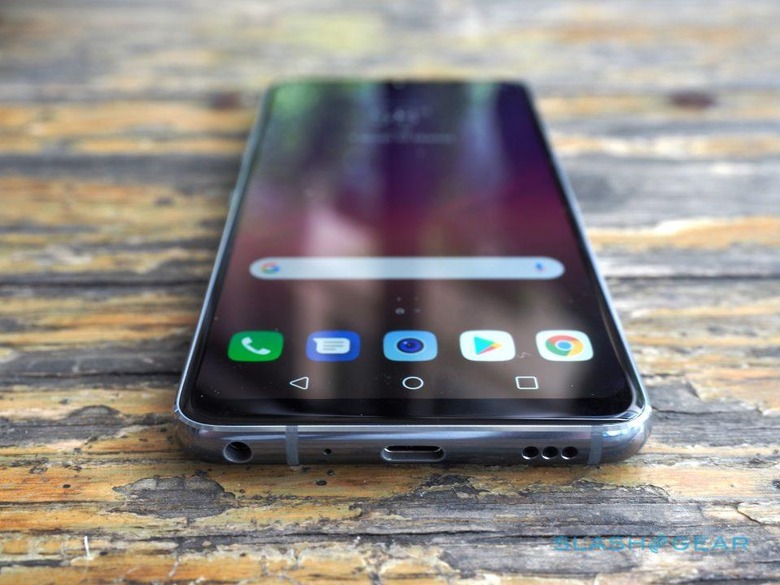 Impressive, but arguably more so is LG's Boombox Speaker technology. Since the G7 ThinQ is sealed in order to satisfy IP68 water and dust resistance, LG basically uses the whole inner chamber as a resonance space. It's apparently 17x larger than you'd find in the typical smartphone of this size, and has been combined with a 39-percent bigger speaker driver.
The result is a noticeably louder phone when the volume is cranked up. Side by side with an iPhone X, the difference is power was clear. I did notice a fall-off in clarity, mind, at the higher levels.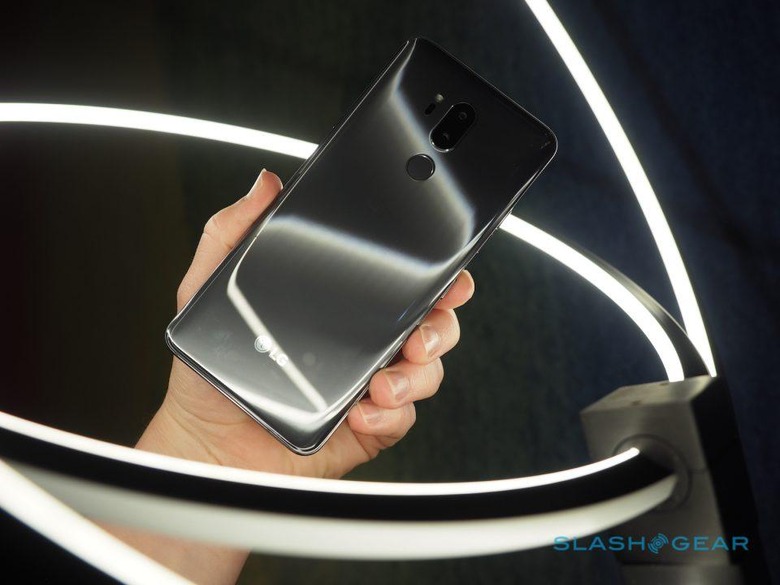 On the flip side, meanwhile, the G7 ThinQ should be a better listener, too. There are two microphones with noise cancellation, which together boast up to sixteen feet of range and a bump in voice recognition rate by as much as 35-percent. Even with TV background noise, LG says, the phone should be able to make out commands from more than six feet away. Google Assistant gets more LG-specific commands, too, like opening up the camera app in wide-angle mode, versus the V30.
There's a dedicated AI button
Phone manufacturers can't seem to give up on the idea that users are desperate for instant access to AI services, and so the LG G7 ThinQ follows the Galaxy S9 with a dedicated button, just for that. Happily, pressing it doesn't summon Bixby, though. Instead, it's a shortcut to the Google Assistant.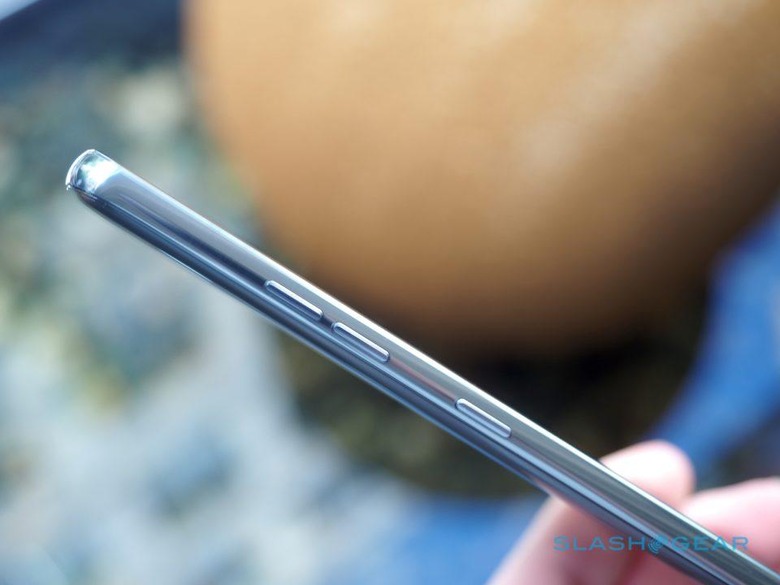 LG does at least have its phone-specific commands to make that a little more useful, but there's no getting past the fact that the button – which is, annoyingly, not programmable – still feels gimmicky. Not having to say "Ok Google" is nice, but I'd much rather have the option to assign the key to something else instead.
LG's salve, it hopes, is a roadmap of artificial intelligence updates that the phone-maker believes will embed machine learning further into our daily lives. The G7 ThinQ comes with the recently-released AI Pack 2.0, but LG already has a further AI upgrade in mind. Depending on feedback, the company says, it may even relent and allow the dedicated AI button to be mapped to something else.
Wrap-up
There's a lot to like about the LG G7 ThinQ. The display is bright and, while some will find the notch a turn-off, the ability to mask it should pacify most complaints. Assuming the camera produces results like the similar V30 setup, there'll be little to fault its images; the wide-angle lens can be very useful, depending on the scene you're facing.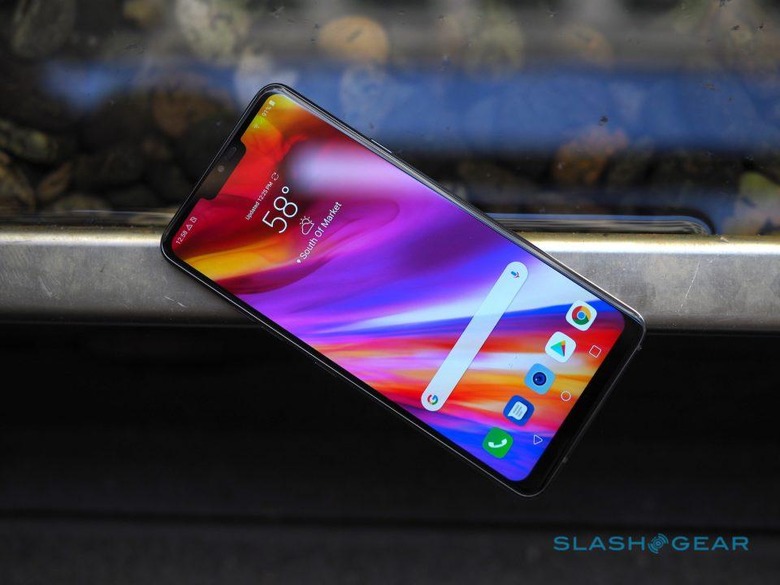 LG's push to make artificial intelligence a cornerstone of the experience, though, still feels a little early. With the boost in speed that final software will hopefully bring, it could make snapping a great photo in the camera more straightforward. All the same, I'm not yet convinced that AI has much of a practical place in the rest of the smartphone experience.
Perhaps that doesn't matter. Until LG convinces me – and everyone else – otherwise, the G7 ThinQ gets the essentials right. We'll know just how right that is when we've put it through its paces for the full review; stay tuned for that.