LG G6's UX 6.0 designed to exploit special 18:9 screen ratio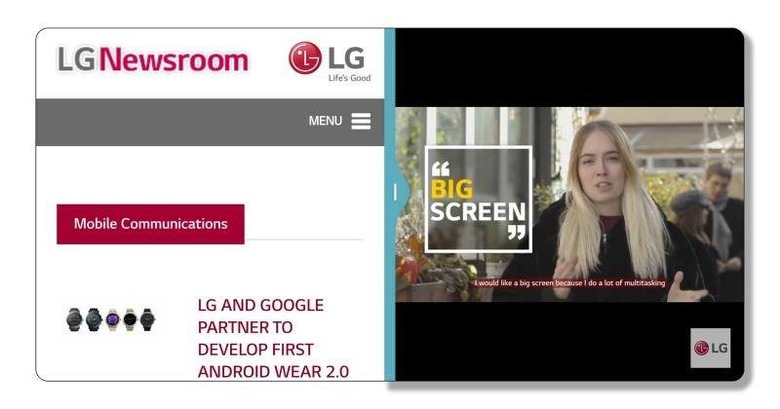 It may seem that LG has run out of gimmicks to pull off for the LG G6, which is why it implemented a never before seen on a smartphone 18:9 screen aspect ratio. Now, however, it is revealing the thinking behind this "FullVision" display, demonstrating the features made possible by this new type of screen. As per custom, LG is updating its custom Android UX experience to version 6.0 and one of the special things about it is that it will take advantage of that larger than normal screen space.
It's all about squares, really. The LG G6's 5.7-inch FullVision display has a resolution of 2880x1440 and an 18:9 ratio. This practically means that when you split the display in half, you get two perfect squares (give or take, considering the navigation and notification panels). And LG has designed special UX 6.0 features to exploit that attribute.
Of course, the first thing that will probably come to mind is split-screen multi-tasking. That has already been available in Android itself since version 7.0 Nougat, and it will probably shine even more with this much real estate. However, LG is also adding some conveniences on top of that. For example, when viewed horizontally, its Calendar app will show dates on the left with event details on the right. LG also promises similar unique experiences when browsing the web or watching videos.
The camera app is also one other place where the FullVision display shines. One will be able to take a square photo, popularized by the likes of Instagram, on one half of the screen while reviewing them on the other half.
Of course, the higher resolution on its own is already a big advantage for the LG G6. It remains to be seen, however, how it will handle content designed for more conventional resolutions and aspect ratios, like 2560x1440, for example. It will also be interesting to see how LG will make that hi-res, 5.7-inch FullVision screen fit in a smartphone that isn't larger than the LG G5.
SOURCE: LG