LG G6 sign-up page reveals full-metal body design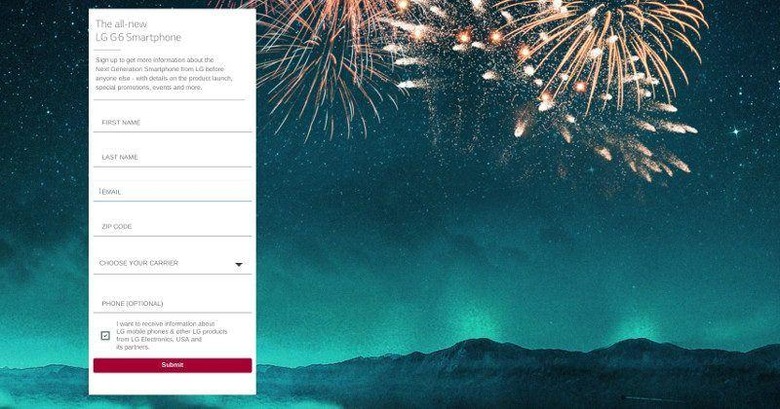 In typical LG fashion, the OEM is dropping breadcrumbs for the masses to follow en route to their LG G6 big reveal. This one, however, doesn't come with a fancy marketing announcement but was subtly hidden as a footnote in some other page. LG has opened up registrations for getting informed when the G6 comes out (as if that will be a secret) and, in the same breath, talks about the smartphone's full metallic design.
There has been a bit of discussion one what LG has decided to use for the G6 but almost all agree on the same thing. The smartphone is expected to, for the first time, sport a unibody design, meaning, unlike the G4 or, to some extent, the G5, there will be no removable parts, cover or bottom. This has been attributed to/blamed on LG aiming for waterproofing, also a first for the OEM.
What the unibody would use, however, has been under a bit of debate, with some speculating a glass sandwich design. Unfortunately for that camp, the full-metal side won. Other than that, however, LG isn't hinting much. It does, however, give some weight to the company's teaser of how the G6 will be "reliable."
So far, LG has practically revealed almost all of the LG G6's key features. The spotlight is being put on the QHD+ FullView display and its 18:9 ratio, which has more implications than simply being bigger and longer. It allows the new LG UX to put two square screens side by side for multi-tasking or different views. It also makes room for more UI controls, like a gallery strip for previewing photos right inside the camera app.
Also teased were the G6's thermal management, Quad DAC audio ala the LG V20, and a now co-equal dual camera system, with 13 megapixel sensors for both regular camera as well as wide-angle camera.
SOURCE: LG