LG G6 said to use MST payment tech, White Card shelved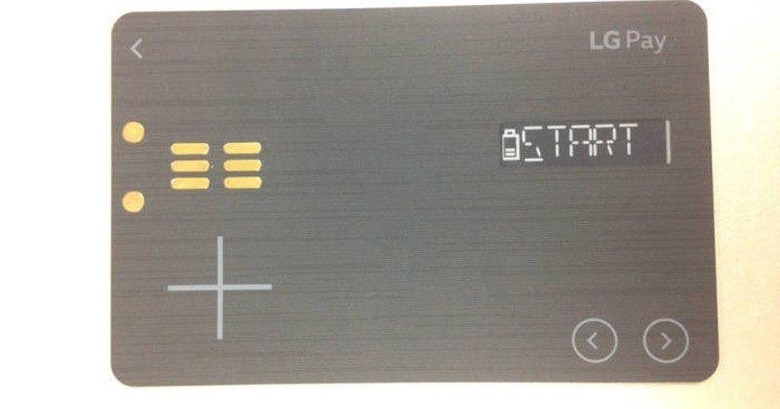 Every now and then you will hear about a new mobile payment system joining the already half a dozen or so mobile payment systems currently active. So it's good when you finally hear someone deciding instead to adopt an existing technology instead of rolling out with their own. Well, in this case, good for Samsung, not so much for LG. Reports indicate that LG has practically decided to drop its own "White Card" technology and, instead, make use of Magnetic Secure Transmission or MST, the same technology used by Samsung Pay.
LG is said to have been working on its own LG Pay system for over a year now. But unlike platforms like Android Pay, Samsung Pay, or Apple Pay, LG's White Card makes use of, well, a card. It's no ordinary plastic, mind you, but one that can be reprogrammed ad hoc to mimic the details of a physical credit, debit, or membership card. The technology's benefit is that it could, in theory, be compatible with traditional swipe terminals. In practice, however, it could mean yet another round of accreditation and certification.
Another technology that is already compatible with conventional POS terminals is Samsung's MST. Unlike White Card, however, it simply uses invisible magnetic waves instead of relying on a physical card. That, together with Samsung's aggressive push, has made Samsung Pay a contender in the mobile payment market that shouldn't be ignored.
Card-based digital payment systems like White Card isn't exactly new. They aren't exactly that successful either. While using a familiar method and card, such systems don't usually inspire much confidence, given unfamiliar names behind them. While LG is certainly not unfamiliar, it will have to compete against already well-established players in an already crowded space.
If this rumor is true, the LG G6 might turn out to be less unconventional than its predecessor. LG is also rumored to be dropping the modular implementation next year. Judging by its recent quarterly earnings report, consumers aren't going to miss it.
VIA: ET News