LG G6 Pro, G6 Plus To Herald New "Premium Derivative" Line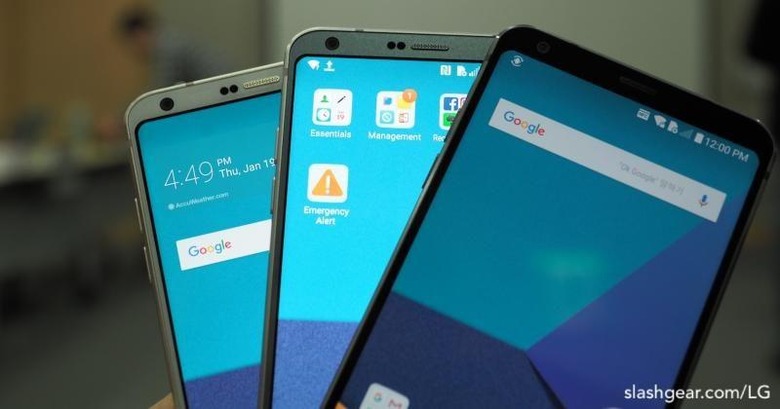 LG's strategy for its premium smartphones have so far been simple. The "G" launches in the first half of the year followed by the "V". While LG does sometimes launch phones reusing a popular "G" model, those are all mid-range or lower devices. You can kiss that simple system goodbye soon. Korean media reports that LG is planning to start a new trend of having "premium derivative" models, starting with an LG G6 Plus and LG G6 Pro, while, at the same time, consolidating its entry-level phones under a single X+number scheme.
You'd be forgiven if you get confused by the upcoming new spinoffs. LG itself might be a bit confused as well. The LG G6 Plus will have "plus" storage, flaunting 128 GB that's twice the built-in storage of a regular LG G6. However, the LG G6 Pro, despite its name, will only have 32 GB. They will at least get prices to match. The Plus model will cost 900,000 KRW, roughly $805, while the Pro will only go for 700,000 KRW or $625. The normal LG G6 costs 899,800 KRW or $800.
Why this potentially confusing change? LG is reportedly trying to diversify its portfolio of phones to match the budgets of consumers. By changing very little from the LG G6, however, LG is able to reduce the costs and risks compared to developing and manufacturing a completely new model. The LG G6 Plus and Pro are expected to be announced this month. Fans of LG's V series need not fret as the LG V30 is still on track for later this year.
On the opposite side of the spectrum, LG is also stirring things up a bit with its entry-level models. Or rather, doing it again. It once already dropped the "L" series name before. Now it will be using an X + number series to denote those phones, starting with the LG X300 and X400 unveiled earlier this year, and an LG X500 this month. Whether that will be confused with LG's mid-range X series, like the X power and X camera, is something LG might still be confused about too.
VIA: ETnews