LG G5 SE apparently won't be smaller than the LG G5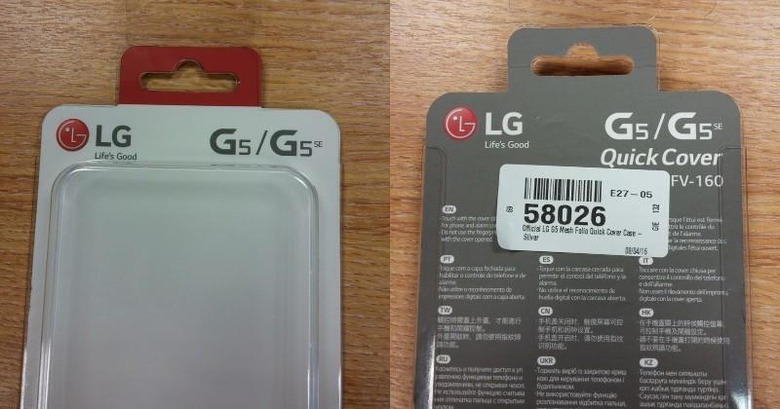 Given the timing of its trademark, many naturally considered that the "LG G5 SE" would be following in the footsteps of Apple's small but terrific iPhone SE. Considering the market has just confirmed renewed interest in smaller smartphones, the chances of that happening have been increased. LG, however, might have had something else in mind with its "Special Edition" name, if it indeed means that. The packaging of the official LG G5 QuickCover case hints that the LG G5 SE will, in fact, be exactly the same size as the flagship.
To be fair, other than the "SE" name there was really no indicator that LG would have a 4-inch or similar version of its flagship. In fact, the trademark was filed in December, long before "iPhone SE" was the accepted name of the pint-sized Apple smartphone. Back then, it was still being called iPhone 6c, not unlike the cheaper iPhone 5c.
UK-based website MobileFun got their hands on a Mesh Folio QuickCover for the LG G5. Highly conspicuous on the cardboard packaging is the name of both the LG G5 and the LG G5 SE. This clearly makes the case that the "SE" variant would have the exact same dimensions as the Regular Edition, to the point that the two can share somewhat tight-fitting accessories. Presuming, of course, this is the real deal.
LG is known, perhaps even notorious, for putting out variants of its flagship that have very little in common except in name. Now that the smaller LG G5 theory has been debunked, the guessing game is on as to what the "SE" really means and what this edition of the G5 will bring.
VIA: MobileFun