LG G5 pre-orders kick off at US Cellular March 28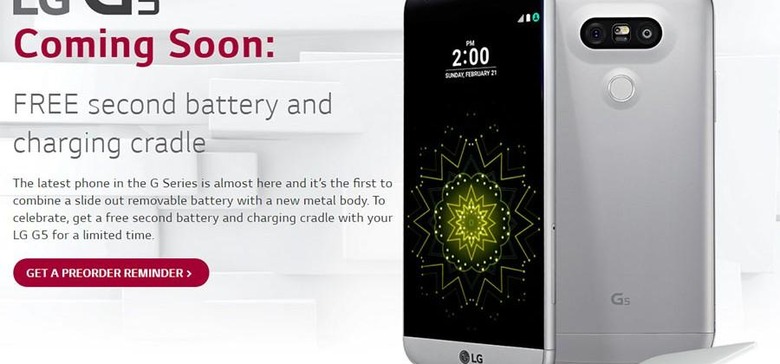 Earlier this month we heard that the launch date for the LG G5 would be in early April. US Cellular has now confirmed its launch date for the device and the launch is coming April 1. Pre-orders for the device will start on March 28 and on April 1; the smartphone will be in stores for purchase. US Cellular also notes that LG Friends, a suite of companion devices for the G5 will land in stores in mid-April.
To sweeten the deal for LG G5 fans, US Cellular is also giving a free second battery and a charging cradle to anyone who buys the G5 through its network before April 17. That extra battery and charging cradle will only be available while supplies last. US Cellular gives no indication of just how large its supply of those extras is.
"Since Mobile World Congress, we have been anxiously awaiting the arrival of the LG G5 because we can't wait for our customers to take advantage of LG's most innovative device on our high-quality, national network," said Joe Settimi, vice president of marketing for U.S. Cellular. "The LG Friends devices along with the LG G5 create a totally new smartphone experience that can enhance and simplify our customers' lives."
The LG G5 can be paid out in 24 monthly payments of $26.50 at US Cellular with $0 down. The user will be eligible to upgrade the device in 18 months if they trade the G5 for any new device with installment pricing. If you sign a 2-year agreement, the G5 will cost $199.99. Among the LG Friends device launching in April will be the Cam Plus, 360 Cam, and 360 VR cam.