LG G2 QuickWindow cases unveiled ahead of flagship handset's launch [UPDATE]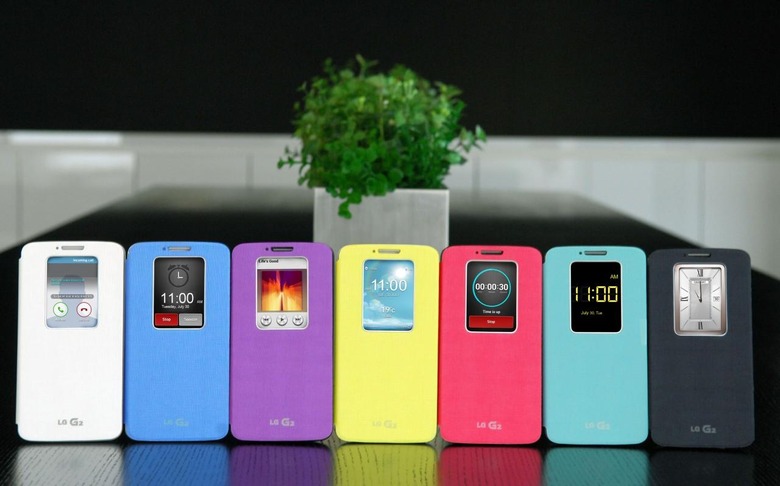 LG's upcoming flagship handset, the LG G2, has had its launch date etched in stone for August 7, with the announcement by LG following months of leaks that have shown off the handset in many iterations. Now ahead of this launch, the maker has unveiled a series of several colorful QuickWindow cases for its flagship offering.
As the name suggests, the QuickWindow cases have a small window near the top, leaving a small portion of the display exposed while covering the rest of it. This allows most of the display to be protected by the case, but also facilitates using the smartphone without opening the case. This is achieved using a "light" finger swipe, pulling up the QuickWindow UX window.
The QuickWindow UX displays select information when triggered, such as a weather report, clock, music player, alarm clock, text messages, and information about a call being received. The case will be available in black, white, purple, pink, yellow, blue, and mint. A price hasn't been set for the cases yet, but LG says they will be made available for purchase at the same time the G2 launches.
LG Electronics' President and CEO Dr. Jong-seok Park said: "LG's newest premium accessory delivers practical and stylish options while protecting the smartphone, which for many consumers is a significant investment. Our smartphone designers have in mind the type of case they'd like to see on their designs. So it made a lot of sense for LG designers to share with our customers their vision of the perfect accessory."
According to the leaks that have surfaced thus far, the LG G2 will feature a 5.2-inch display, and inside will host a Qualcomm Snapdragon 800 2.2GHz processor with 2GB of RAM. Around back, users will reportedly find a 13-megapixel camera, with the software said to be Jelly Bean 4.2.2. As always, we'll have all the official details for you next month, so stay tuned!
[UPDATE] LG has posted a video (in Korean) showing what you could do with the LG G2 QuickWindow case, watch the video below!
SOURCE: LG Newsroom