LG G2 battery detailed: "Stepped" for maximized energy and space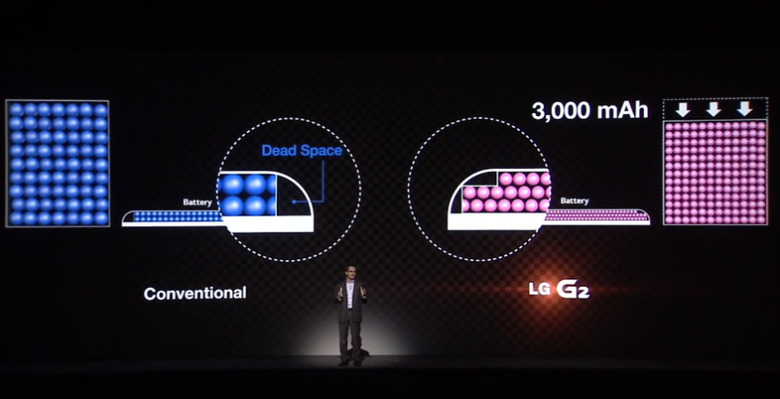 Under the hood of LG's new LG G2 smartphone, announced just today, comes no less than a 3,000mAh "Stepped Battery." When LG decided to create a hero phone in the LG G2, they didn't take Motorola's approach with the Moto X, they went straight for the gullet with a specifications war. One of the places this aim is quite evident is in this smartphones new method for battery delivery.
Under the hood of this machine is a battery implemented in a way that kicks out conventional, or what LG calls "Boxy" batteries. There's a bit of "dead space" in each of the batteries being used in most smartphones sent out over the past several years, and LG's aim with this Stepped Battery is to make the most of it.
Here with the LG G2 Stepped Battery, the user works with 610wh/L density with Hi-V and SiO. SiO refers to an enhanced version of the standard Lithium Ion batteries you see in standard devices all the time. SiO stands for Silicon Oxide, and LG has been delivering this technology in smartphones since the LG Optimus Vu. The more you know!
Have a peek at the rest of our LG G2 details in the timeline below and stick around for the LG G2 hands-on we'll be sending out soon! Also stick around for the full LG G2 review from SlashGear in our review portal sooner than later!