LG flexible smartphone OLED panel enters mass production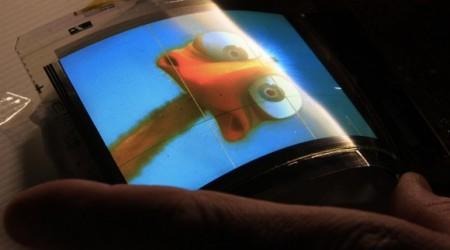 LG has announced that it has started mass production of what it claims to be the world's first flexible OLED panel for smartphones. LG previously grabbed the distinction of being the first to company commercially rollout 55-inch OLED TV display earlier this year. The company is building it's flexible panels on plastic substrates.
Building the OLED panels on plastic substrates rather than glass is what allows them to be flexible. LG claims that panel is bendable and unbreakable. The display is vertically concave from top to bottom with a radius of 700 mm. LG believes that its new flexible screen will open up a new world of design innovation for the smartphone market.
The flexible OLED panel is also impressively thin at only 0.4 mm thick making it the world's slimmest mobile device display panel. The screen is also the world's lightest smartphone display weighing 7.2 g for a six-inch screen.
LG has been rumored to be unveiling a curved screen smartphone next month called the LG G Flex. If that rumor is true, the device will likely be taking advantage of LG's new flexible OLED panel. LG doesn't offer details on what sizes it will be producing or other specifications for the screens.
SOURCE: LG