LG flexible epaper devices promised for April launch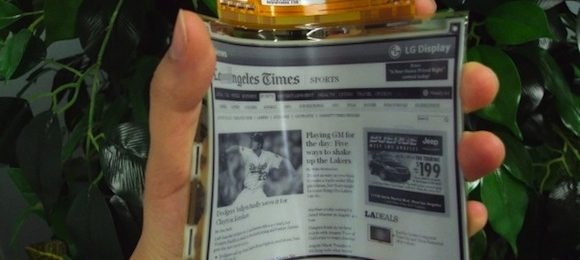 LG Display has launched a new, 6-inch flexible epaper display that the company expects to show up in bendable products by the beginning of next month. The panel, a 1024 x 768 monochrome sheet, can be bent up to 40-degrees without breaking; in addition, because LG Display has used a flexible plastic substrate rather than the more traditional glass, it's less than half the weight of a traditional epaper panel.
That means lighter gadgets that are actually more durable since the panels should be more resilient to drops or bumps. They can also be thinner, too: the plastic panel is a third slimmer than glass equivalents, at just 0.7mm thick.
LG Display says it can drop its new screen from 1.5m – the average height a device is held when it's being used for reading, apparently – without any resulting damage. The company also hit the screen with a plastic hammer, leaving no scratches or breaks, ETNews reports.
LG isn't the only company to be working on flexible screens this year. Samsung has already confirmed that it is looking at launching devices using flexible AMOLED panels in 2012, though it's unclear whether the screens will actually fold or bend, or simply be used to wrap around smartphones for new types of UI.
The first products using the LG Display flexible panel are on track for a release in the European market in early April, the company claims. No word on what vendors will be offering them, nor how pricing will compare to traditional glass-substrate epaper.
[via OLED-Display]