LG F240K smartphone shows up in GLBenchmark with 1080p display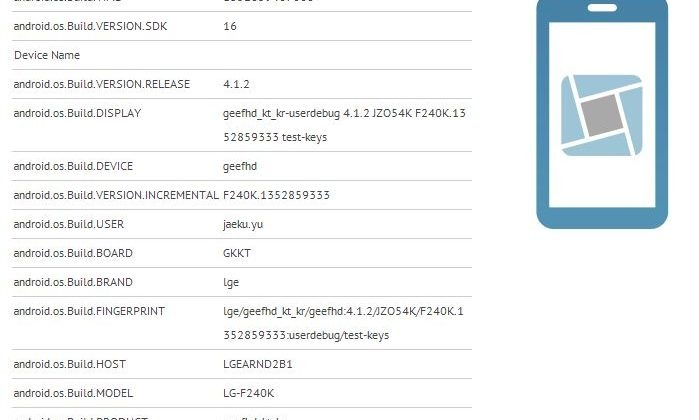 With the world currently going crazy over smartphones with high-definition displays, it's no wonder that manufacturers all want a slice of the high-end pie. We're seeing it with HTC's latest, the DROID DNA, and a new GLBenchmark listing suggests that it won't be long before LG has a 1080p smartphone of its own to offer consumers. Benchmarks for a new phone called the LG F240K have appeared, and if the results are anything to go on, this is going to be one nice smartphone.
The size of the display isn't known, but with that 1080p resolution, our friends at Android Community guess that it might come in at 5-inches by the time everything is said and done. Couple that with what's suspected to be a quad-core Qualcomm Snapdragon S4 processor clocked at 1.5Ghz and you've got a smartphone worthy of the high-end title. The handset is also running Android 4.1 Jelly Bean, so you won't have worry about getting stuck with Ice Cream Sandwich (though it would be great to see Android 4.2 running on the F240K).
Keep in mind that a GLBenchmark result is hardly proof of existence, but it is a pretty good start. It seems that LG is working on something for the high-end, though we're not likely to get an official announcement for a little while yet. In any case, since no one can keep a secret in the smartphone world, we should be seeing some F240K-related leaks popping up before long.

LG is only one of the companies looking to give HTC a run for its money in the 1080p smartphone market. We're also expecting to see entries from Samsung and Sony at some point down the road, so the future is looking bright for 1080p smartphones. Keep it tuned here to SlashGear, as we'll update you if we hear anything new about this mysterious smartphone!
[via Phone Arena]