LG Display has unveiled what it says is the "world's slimmest" full HD LCD panel for smartphones, which measures in at 5.2-inches and is aimed at reducing the overall thickness of handsets, as well as their weight. The company didn't state when the panel will be made available to handset makers, but we do have a gallery of it for you after the jump.
In addition to the thinner profile and lighter weight, LG Display also says their new LCD panel will result in a phone with "better grip-ability," as well as a better viewing experience than previous offerings. The panel has a 2.3mm bezel, while its actual thickness is less than that at 2.2mm, also earning it the title of narrowest full HD smartphone display available.
As a result of the narrow bezel, the overall viewing area of the display is larger than what other panels offer, something LG Display says is "critical". The new device was developed using the company's Advanced One-Glass-Solution technology, also known as OGS, marking the first time it has been used with the panel. Likewise, rather than using a single circuit, LG used Dual Flexible Printed Circuits.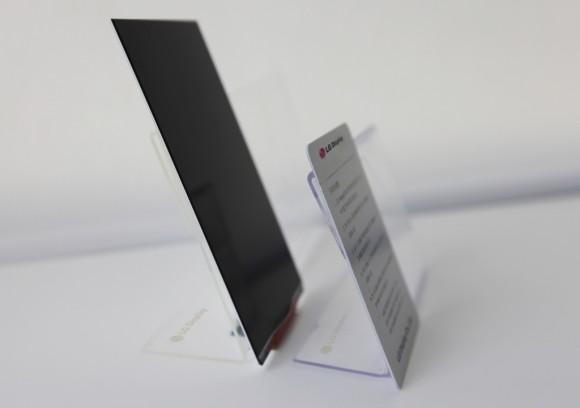 Finally, there's been the utilization of a direct bonding system, which LG Display says has allowed it to use less Optical Clear Resin, something that also results in a brightness higher than other offerings. The panel itself is RGB with 535 nits of brightness at its highest setting, with the contrast coming in at 3.74:1 based on 10,000 lux.
Said LG Display's IT and Mobile Development Group's VP Dr. Byeong-Koo Kim: "Today's introduction of the world's slimmest Full HD LCD panel represents an exciting advancement for the high-end smartphone segment, and is possible due to our world-class expertise in IPS and touch technologies. "LG Display will continue its commitment to developing products that maximize consumer value as well as opening new doors for the mobile and tablet PC industry."
SOURCE: LG