LG Display and iriver partner up on ereader production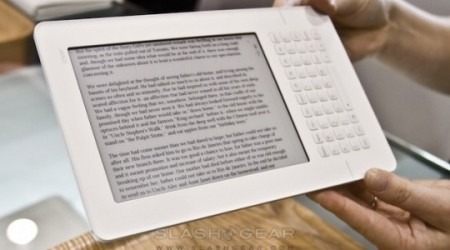 LG Display and iriver have announced a partnership that will see the two companies collaborate as a new ODM/OEM ebook manufacturer.  The new venture, L&I Electronic Technology (Dongguan) Ltd., will be based at iriver's Chinese plant and see LG Display provide the e-ink panels and iriver develop product designs.  LG Display will have a small majority stake in the collaboration, providing 51-percent of the total $5m financing.
The first output from the L&I plant will carry the iriver brand, though technical details of the model itself are unclear.  It'll likely have a monochrome e-paper display, however; LG Display reckon 
they'll grab the number one spot for color and flexible EPD by 2012.  No word on when the first ereader device will be available, however.
[via The Digital Reader]
Press Release:
Iriver – LG Display Establish joint venture for e-book business

Iriver and LG Display financed a total of 5 million dollars to establish a joint-venture company in Iriver's China Plant

Operating an ODM and OEM system to manufacture e-book reader

Develop and produce leading e-book readers in the global market by generating synergy in the technology and manufacturing aspects

Iriver and LG Display have agreed to establish a joint venture company, 'L&I Electronic Technology (Dongguan) Ltd.' in China to expand their e-book business.

Each Iriver and LG Display will finance 49% and 51% of the joint venture company, respectively, totaling up to 5 million dollars. The business will be founded on original equipment manufacturing (OEM) and original development manufacturing (ODM) systems to develop e-books and provide production services.

Iriver is responsible for product design, accumulated knowledge on e-book technology, including designs and platform development, as well as technical assistance within the joint-venture. And Iriver will be the first customer for the joint venture. LG Display, with its global sales network and world class production skills, will be in charge of providing a stable supply of e-book displays, such as electronic paper displays (EPD) to the joint venture.

Iriver expects to gain a stronger market presence in both the domestic and global e-book markets as it will gain a price competitive e-book reader supplier from the new relationship. The prospect for LG Display also seems bright. It will stand out from its competitors by securing a stable distribution line for its e-book displays, while also making its debut in the final product business.

Jae Woo Lee, CEO of Iriver, said, "The joint-venture is significant in that it lays the foundation for a more stable and competitive manufacturing line. If we succeed in generating a synergy between Iriver and LG Display, our joint-venture company will grow to become the market leader with unrivaled competitive power in e-book development and production business.

LG Display's Executive Vice President and Head of Mobile/OLED Business Unit Mr. Eddie Yeo said, "LG Display decided to establish a joint venture with iriver to supply customers with more competitive products as part of our upstream-downstream business transformation strategy. LG Display will utilize its advanced EPD technologies to achieve early commercial production of color and flexible EPD and reach the global No.1 position by 2012."