LG Aristo on T-Mobile, MetroPCS offer bang, style for buck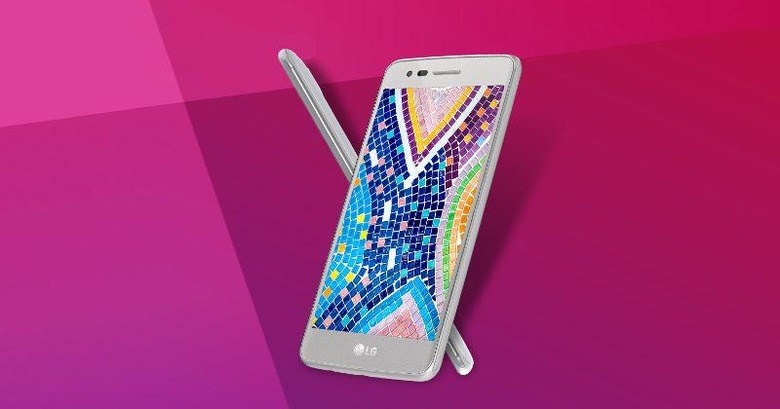 Buying a smartphone, more often than not, involves a series of compromises, usually between price, feature, and design. Lately, however, design has stopped being an issue, with even the most wallet-friendly models sporting better-looking bodies. Take for example the LG Aristo, now available on T-Mobile and MetroPCS, which is, through and through, a lower mid-range smartphone, but one that you won't be embarrassed to hold in public.
The phone's 2.5D glass almost, just almost, makes it look like it has curving edges, That glass is also tempered to save you from the cost having to apply one of those screen protectors. The Aristo's slim profile is in no small part thanks to LG's in-cell touch screen, which offers practically no gap between touch panel and LCD display. There's also an odd pattern on the back cover that's going to make people look twice.
The hardware specs for the LG Aristo might be a bit off-putting at first. After all, you only get a 1.4 GHz quad-core Qualcomm Snapdragon 425, 1.5 GB of RAM and a 5.0-inch HD 720p display. LG and T-Mobile seem pretty proud of the 16 GB of storage, though, and even more of the 13 megapixel AF rear camera.
The Aristo does have a whole slew of LG's special features, like "Knock On" double tap to wake, "Knock Code" security pattern, a rear fingerprint scanner and home button combo, and support for T-Mobile's Wi-Fi Calling and VoLTE features. Best of all, the 2,410 mAh battery is still removable and there's still a headphone jack. No USB-C though.
Starting 25th January, the LG Aristo can be purchased for $6 a month on a 24-month Equipment Installment Plan with $0 down and an automatic 25% discount on a Tech21 case and screen protector when bought all at the same time. MetroPCS subscribers will be able to get the Aristo earlier starting on the 23rd for a retail price of $129.