LG and Verizon team up to provide 75 channels for Smart TV owners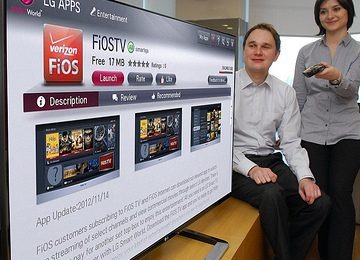 Verizon and LG have teamed up to eradicate set-top boxes with the magic that is the Smart TV. Now Verizon FiOS customers can watch 75 broadcast channels on their Smart TV in addition to the provider's Flex View service, which provides access to over 25,000 on-demand shows. Both a FiOS Internet and TV subscription is required, however.
Some of the channels offered by the service include HBO, TBS, VH1, the NFL Network, and the Food Network. Those who also have access to Flex View will have the added ability to buy or rent from a library of thousands of movies and TV shows. Flex View can be used from a mobile device or PC in addition to the Smart TV.
Vice President of Samsung's Smart TV and Innovation Samuel Chang offered this statement. "The expansive selection of channels from FiOS TV and on-demand content from Verizon's Flex View library further strengthens LG's Smart TV platform, giving consumers of all ages a virtually limitless amount of entertainment on TVs, Blu-ray players, PCs, even tablets and phones. As we see more and more consumers adopting the multi-screen universe, LG continues to seek content and alliances that broaden our Smart TV offerings to provide the best experience on whichever device consumers choose to use."
Security controls are available, allowing parents to limit what their children have access to. The FiOS app is available for all 2012 LG Smart TVs, which include models LM9600/8600/7600/6700/6200, LS5700, PM9700/6700/4700, as well as the BP620 Blu-ray player. Users can download the application via the LG Smart TV Smart World service.
[via Nasdaq]