LG adds 3-D Disney movies to its smart TV platform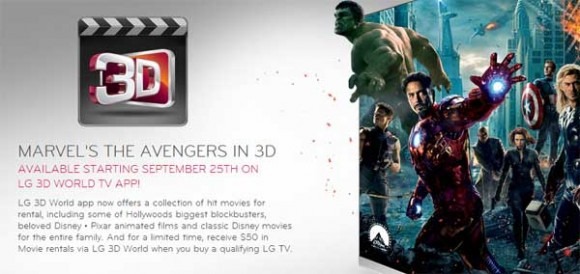 LG electronics has announced that it has entered into an agreement with Walt Disney Studios that will bring 3-D Disney films to its 3-D TV platform. The Disney flicks will be available on LG's 3-D World in the coming months. Some 3D Disney films are on the service now with more coming.
Two blockbuster 3-D films that will be coming to the LG Smart TV platform on November 13 include Marvel's The Avengers and the animated movie Brave. LG says that the addition of Disney content to its smart TV platform helps to address the consumer desire for more 3-D programming. There are some films available from Disney in 3-D on LG's platform right now.
The films available right now included the Toy Story trilogy and Alice in Wonderland among others. LG says its Smart TV program allows for a movie theater 3-D quality experience for the whole family. LG points out that most of its Cinema 3-D Smart TVs include six pairs of 3-D glasses allowing the whole family to watch popular Disney programs.
LG is trying to drum up support for its new 3-D offerings by offering new TV buyers a coupon worth $50 in 3-D content. LG says that by the spring of 2013 several other 3-D movies will be available, including Finding Nemo, Bolt, Gnomeo & Juliet, Tangled, and Tron: Legacy. Prices for renting 3-D films range between four dollars and eight dollars each.