LG 5.9mm-thick 42- and 47-inch LCD HDTV panels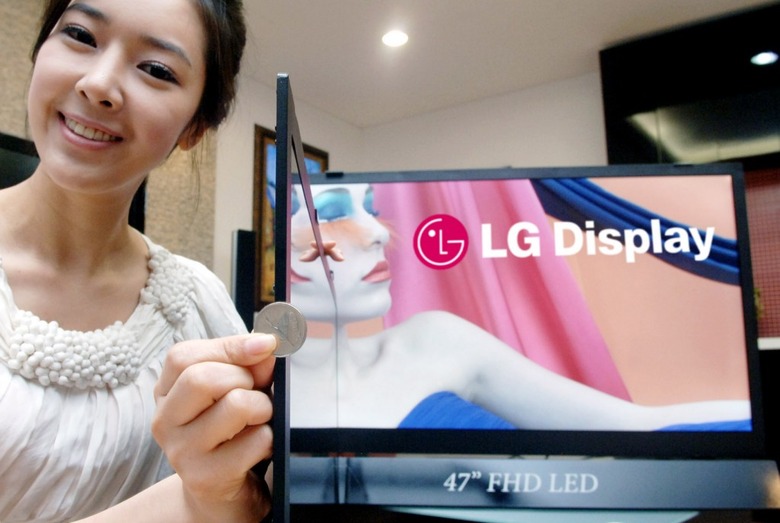 LG Display have announced the world's thinnest 42-inch and 47-inch LCD TV panels, measuring just 5.9mm thick (0.23-inches) and using edge-lit LED backlighting.  A proprietary light guide sheet (LGS) was used to spread the backlighting out across the rear surface of the LCD panel; this new technology cut the thickness of a regular LGS by more than half.
Despite the dimensions, the panels are capable of displaying Full HD 1080p video with LG's 120Hz anti-blur technology.  Response time is just 8ms, and color saturation is 80-percent (NTSC); brightness is 450 cd/m2.
In addition to being thin, the panels are also very light: just 6.1kg (13.42lbs) and 7.3kg (16.06lbs) for the 42- and 47-inch versions respectively.  Again, that's around half the weight of a standard CCFL backlit LCD HDTV.  No word from LG as to when we can expect to see these panels on the market, nor how much they might cost.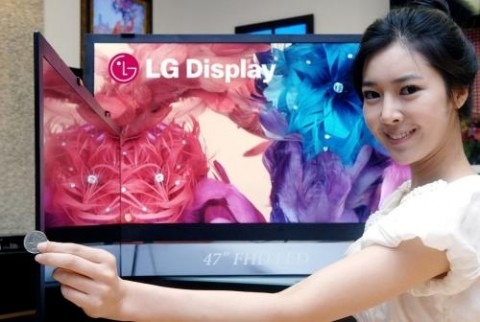 [via displayblog]