Lexus RC F coupe ramps up driving experience, premieres next week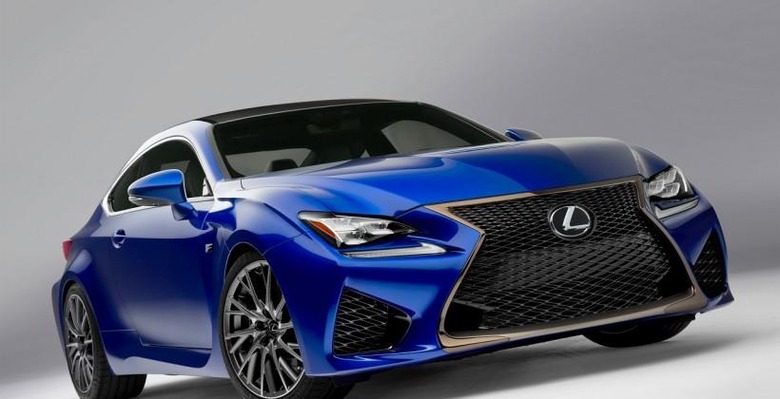 The Lexus RC F coupe, a sporty new option built upon the original RC coupe, will be shown off at the upcoming North American Auto Show taking place next week on January 14. With this model comes a variety of new features, among them being wider tires and wheels, as well as the addition of air scoops, cooling ducts, an active rear wing, and various carbon fiber components. Combining all these together, Lexus says the model offers "uncompromising grit".
Continuing with the exterior design, the RC F model features the Lexus spindle grille with a slight F pattern on the lower portion of the hood, which is overall higher than the RC model, allowing for the use of a V8 engine. The air ducts are located beneath the fenders and the front bumper. Beyond that, there are aerodynamic fins that aid in stabilizing the car, also complementing the new flared profile well.
Other exterior designs include stacked trapezoidal quad-outlet tailpipes, a speed sensitive rear spoiler, and more. There are wheel variations available, all of them 19-inch 10-spoke varieties made of aluminum — two of them are machine polished and one of them are hard polished. From there, Lexus says the interior is cockpit-like and has a design that matches well with the new exterior elements.
The auto maker says the pedals, seats, ornamentations, meters, and steering wheel are all the unique components, as far as the interior design goes. Users can change the size of the text and the display color on the center meter if desired, and there are four user-selectable driving modes. Also, as a first for Lexus, the RC F coupe has an elliptical cross-section steering wheel with a thick grip and carefully positioned paddle gear shifts. The seats are high back and available in five leather trim options, as well.
SOURCE: Lexus