Lexar 64GB microSDXC Has 600x Transfer Speeds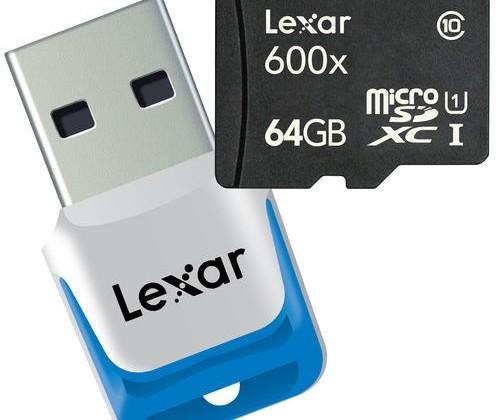 Lexar produces a wide range of flash storage devices including memory cards for virtually every smartphone camera that you can imagine. The company has unveiled a new impressively high-performance micro SDXC memory card aimed at enhancing mobile video capability. The card promises transfer rates as high as 600x.
That 600x transfer rate is equivalent to 90 MB per second. The card has 64 GB of storage capacity promising to allow users to store up to eight hours of full HD resolution video along with thousands of photographs and digital audio files.
Lexar ships the high-speed memory card with a USB 3.0 card reader making transferring your large video files to your computer significantly quicker. Lexar says that it has tested the memory card and found it works reliably with over 1100 digital devices.
The memory card is also protected with a lifetime warranty and the card reader included is backwards compatible with USB 2.0 ports. The card reader itself features a one-year warranty. The 64 GB memory card and reader will sell for $99.99. It's unclear exactly when the card will be available to purchase.
SOURCE: Lexar