Lexar 32GB Class 10 microSDHC on sale for $150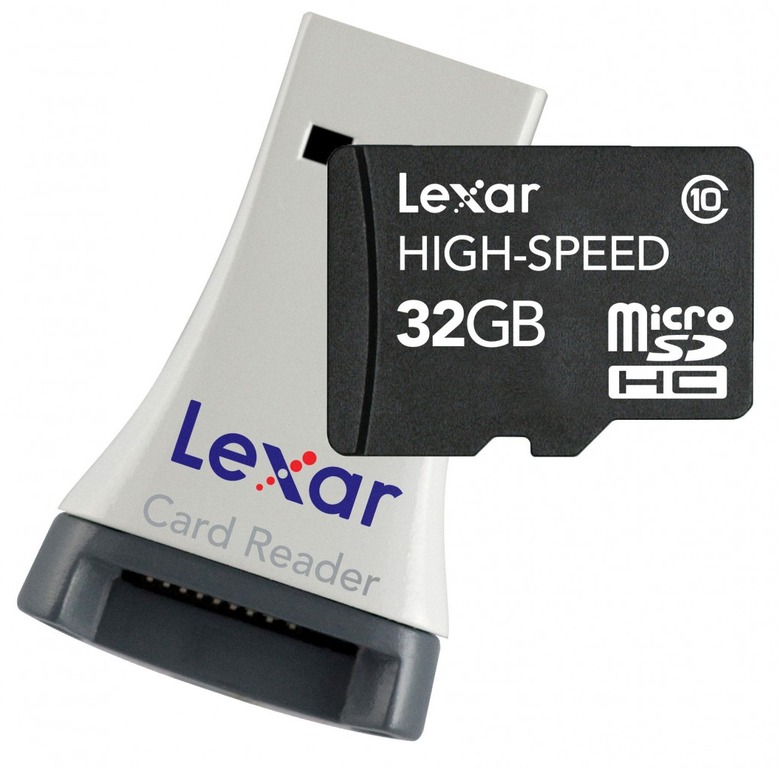 Lexar's SDXC cards aren't the only high-speed memory the company has for CES 2011; there's also a Class 10 32GB microSDHC card intended for mobile phones. Offering guaranteed minimum sustained write speeds of 10MB per second and read speeds up to 20MB per second, the new chip should make a real difference for those users running apps from removable media.
The 32GB Class 10 microSDHC is available now, though you'll need deep pockets: it's retailing at $149.99.
Press Release:
Lexar Media Introduces the 32GB Class 10 High-Speed Mobile microSDHC Card for Mobile Phones

Class 10 microSDHC Performance Kit Enhances the Mobile Lifestyle with Blazing Fast Transfer Speeds

Key Messages:

Class 10 32GB microSDHC™ card with performance kit only one of its kind available today

Class 10 speed rating offers fast load and transfer of mobile content

Large capacity enables users to capture more valuable content on the move, including HD videos, photos, and music

Media management software and USB reader allow users to easily manage, transfer, and archive media files, as well as sync content between a mobile phone and PC or Mac® system

Las Vegas, NV, January 5, 2011 – Lexar Media, a leading global provider of memory products for digital media, today introduced the 32GB Class 10 Lexar® High-Speed Mobile microSDHC card. The 32GB Class 10 microSDHC card guarantees a minimum sustained write speed of 10MB per second and a read speed up to 20MB per second1, allowing users to quickly load files onto the card and transfer them between mobile phone and computer, and maximize their on-the-go mobile lifestyles. The 32GB Lexar High-Speed Mobile microSDHC card is part of a performance kit that includes a USB reader and mediamoveTM for Lexar Media sideload software for easy and quick file management. For additional information about the 32GB Lexar High-Speed Mobile microSDHC card, visit www.lexar.com.

"We've seen a steady rise in the sophistication of smart and mobile phones, and usage trends show a convergence between communication and entertainment," said Jim Chan, product marketing manager, Lexar Media. "Today's users rely on their mobile devices, beyond talk and email, for capturing live moments and downloading their favorite content – whether it's photos, music, or HD video – and they want the flexibility to store and share them on demand. It is with this knowledge that we've developed this convenient, all-in-one solution to enable users to not only capture moments and download content, but also to move these to a computer or social media sites easily."

Multimedia file storage, including photos, music, videos, is the primary reason people purchase memory cards for their phones2. The 32GB Lexar High-Speed Mobile microSDHC card enables users to not only store more multimedia files, but to also move large amounts of mobile content more quickly with its performance of Class 10. The card also includes pre-loaded software to allow users to manage their stored images and videos, sync content with their PC or Mac, and share them on the most popular social websites.

As a division of Micron Technology, Inc., Lexar Media is backed by Micron's industry-leading memory technology, providing consumers with reliable, high-quality, award-winning products. Additionally, Lexar products are tested in the Lexar Quality Labs where all product designs undergo extensive testing to ensure performance, quality, compatibility, and reliability with more than 800 intended digital devices.

The 32GB Lexar High-Speed Mobile microSDHC card includes a ten-year limited warranty and the USB reader includes a one-year limited warranty. The 32GB Lexar High-Speed Mobile microSDHC card is available now at Amazon.com and Lexar.com, with a MSRP of $149.99.