Leonard Nimoy is gone. The actor died this morning at his Bel Air home in Los Angeles. His passing has been confirmed by his wife, Susan Bay Nimoy, who says the cause of his death was late-stage chronic obstructive pulmonary disease (COPD). Leonard Nimoy said last year his disease was caused by years of smoking, though he had given up the habit some 30 years ago. According to The New York Times, Nimoy was hospitalized earlier in the week.

Leonard Nimoy was 83.
Nimoy is best known as Spock, the logic-above-emotion Vulcan/human character in Star Trek. Over time, Spock (and by virtue Nimoy) became as much a folk hero as a sci-fi character to fans and casual observers alike.
Nimoy was also instrumental in the Star Trek film refresh, where his character was central to the main storyline.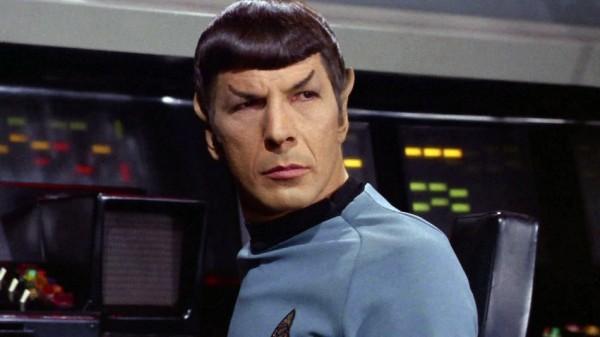 Succeeding Nimoy as Spock is Zachary Quinto, who had Nimoy's blessing and support for his role as Spock.
Though Spock dominated his career, Nimoy was also the voice of Sentinel Prime in Transformers: Dark of the Moon, and had a recurring role on the TV series Fringe. Nimoy also directed two Star Trek movies — Star Trek III: The Search for Spock and Star Trek IV: The Voyage Home.
Nimoy was active on social media, often posting to Twitter. He always signed tweets he wrote with "LLAP", an acronym of Spock's Vulcan salutation of "Live Long and Prosper".
To Nimoy, we say "RIP", and thank you.
ABOVE: NASA Astronaut Mike Fincke and ESA European Space Agency Astronaut Luca Parmitano reflect on the inspiration that actor Leonard Nimoy's character Mr. Spock in the television series Star Trek had on scientists, engineers, space explorers and fans around the globe.

ABOVE: Leonard Nimoy's final public message – a Tweet just days before he passed. BELOW: Well-known friends and associates outpouring of love and well wishes.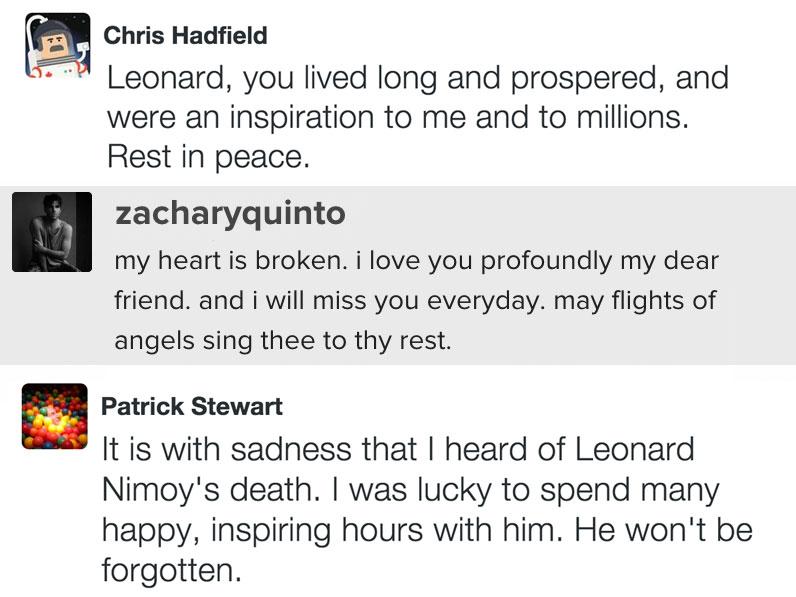 The President of the United States sent a message honoring the life Nimoy as well.

From NASA: International Space Station astronaut Terry Virts (@AstroTerry) tweeted this image of a Vulcan hand salute from orbit as a tribute to actor Leonard Nimoy, who died on Friday, Feb. 27, 2015. Nimoy played science officer Mr. Spock in the Star Trek series that served as an inspiration to generations of scientists, engineers and sci-fi fans around the world.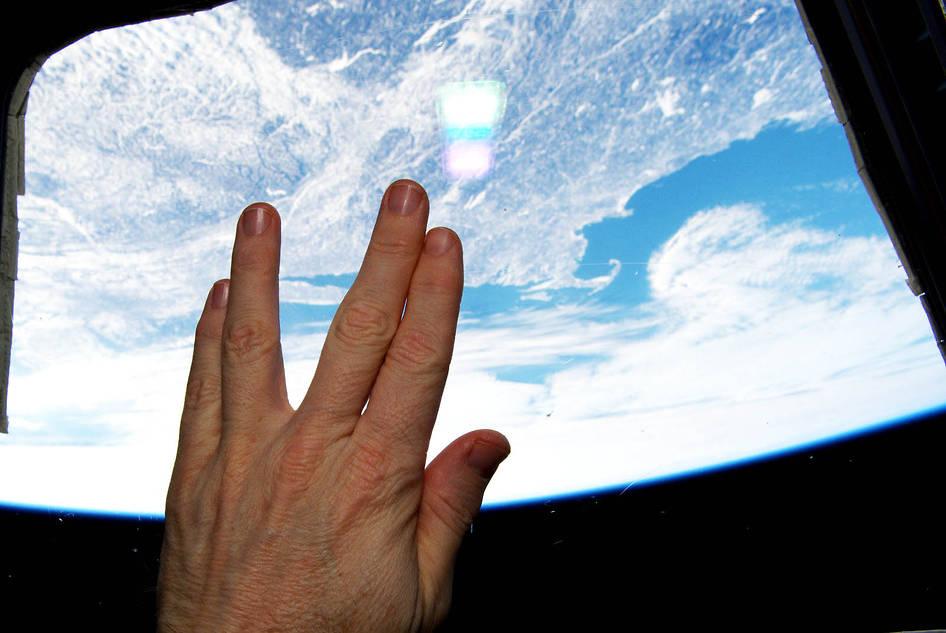 NASA (continued): Cape Cod and Boston, Massachusetts, Nimoy's home town, are visible through the station window.