Lenovo's Thinkpad X300 Dissected
I'm not a ThinkPad fanboy, but my experience with ThinkPad has been amazing. The X300 excites me and I'm planning to get one for myself. One lucky dude in LA was able to get a unit for himself. Like a true techie, rather than just using the laptop and brag about it, he went ahead and shares to the world on what's underneath the X300.
Lenovo made the Panasonic DVD-RW drive removable, does this mean the bay supports extended battery? We'll see. Lenovo uses Samsung 64GB SATA SSD as its storage on the X300.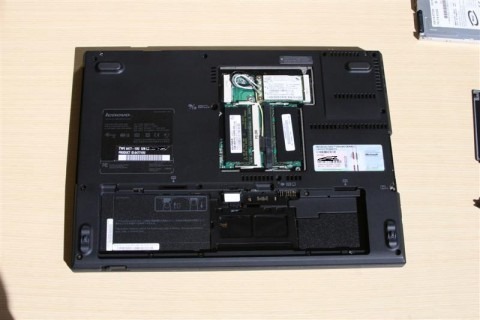 From the bottom chassis picture, replacing RAM is very easy and the wireless module is visible too. I have to admit, MacBook Air is sexy, but X300 is way sexier when it comes to features and flexibilities. Beauty is only skin deep!
[via thinkpads.com | engadget]