Lenovo's Miix 2 'multimode' devices, hands-on at CES 2014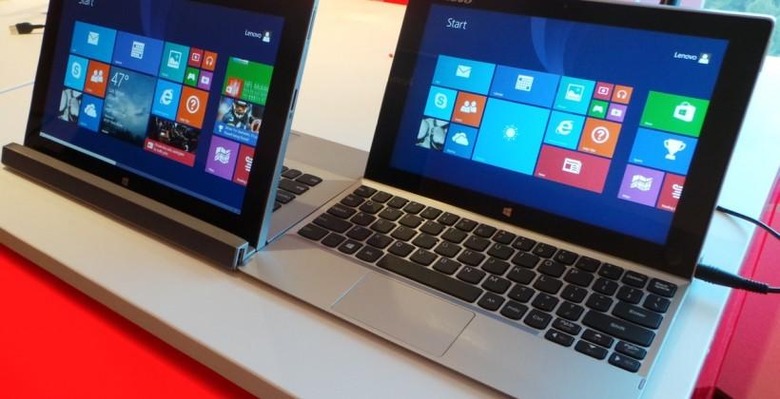 Lenovo has come in hot and heavy this year at CES, with their over-the-top impressive 4K monitor and sublime windows tablets. Continuing their innovative approach to convertible devices, Lenovo has the Miix 2. A tablet, a laptop, and so much more. We were given the opportunity to check it out, and we must confess; we're smitten.
There are two varieties to the Miix lineup for 2014, a 10.1-inch model and 11.6-incher. The smaller of the two will sport an Intel Atom processor, and a 1920 x 1080 resolution with 10-point multitouch support. JBL speakers and subwoofer are tucked around back (or front, depending on the orientation), with Lenovo saying it will offer up to eight hours of battery life.
The larger of the two brings the same screen resolution, but bumps the processor up to a fourth generation Intel i5. It has the same JBL sound hardware, and both will sport a 2MP front/5MP rear camera ensemble. Dimensionally, the 10.1-inch is 9.2mm thin, withe the tablet weighing 1.3lbs, and the keyboard 0.97lbs. The larger will be 11mm thin, and carry a 1.76lb tablet and 1.21lb keyboard. Both have the normal accompaniment of ports, with dual USB and HDMI on board. The 10-incher will have 2GB RAM, and you can pack up to 8GB on the 11-inch Miix. Up to 128GB Memory is available for the 10-inch, and 256GB for the 11.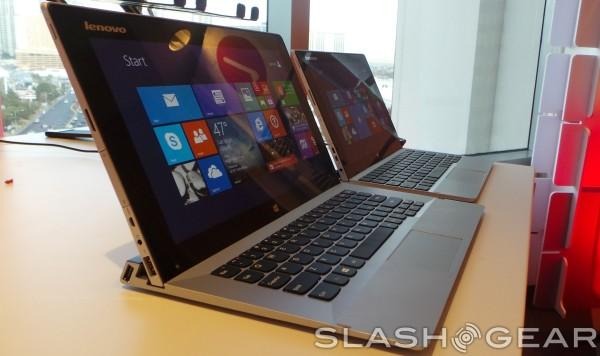 In our hands-on, both devices were snappy. We ran them through a few stock Windows programs, and never had any issue with load time or lag. During multi-tasking, we were unable to task the device to the point of stuttering or buffering. That's de rigeur for Windows 8 and news Intel devices, though. We expected less from the Miix, but got so much more.
In our review of the Yoga 2 Pro, we wondered just what that device wanted to be. We weren't convinced the average consumer would want or need it. Though it has use-case scenarios we could imagine it being uniquely poignant for, in the all-around sense, we just didn't see it happening on a large scale. With the Miix, those concerns almost dissipate in our use of it.
Unlike the bendable, flexible Yoga 2 Pro, the Miix screen is held onto the base magnetically.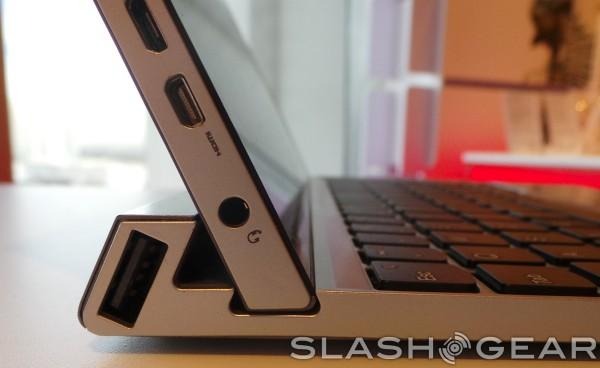 From there, you're able to take it with you, and it acts just like a standalone Windows tablet. When it comes to Windows, we prefer a larger tablet, and either Miix is perfect for the tablet tasks at hand. Tablet mode, however, is just the beginning. The Miix is actually really great in all modes, leaving us hat-in-hand about our doubt regarding convertible devices.

In Stand mode, the JBL speakers face you front and center, a carefully considered design choice. Lenovo tells us they think more people will watch media in Stand mode, leading to their decision. From there, we're left with a Windows tablet that has a sturdy base, and really nice sound for the package offered. We're once again left impressed.
Laptop mode sealed the deal, though. We weren't crazy about the rubberized finish on the Yoga 2 Pro, and the Miix has a more standard finish. A very sturdy plastic encases Lenovo's impressively nice keyboard. Lenovo tells us their scalloped keys are meant for touch typists, who tends to slide around a keyboard rather than peck. We think the design is comfortable and clean, and in Laptop mode you're left with a compact, powerful device. We weren't over the moon about the touchpad, which is small and not the most responsive we've experienced, but it wasn't unusable. The touchscreen makes up for it in spades.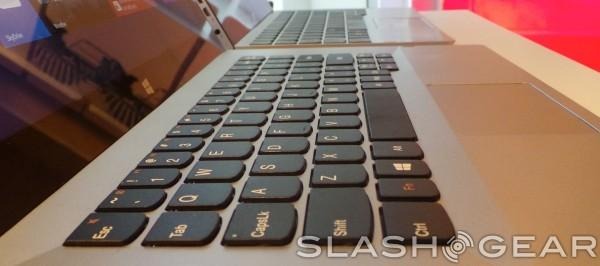 For us, the Miix brings an innovative design, and two screen sizes only deepens our enjoyment. In regard to other Lenovo convertibles, you're "missing" Tent mode, but we aren't missing it. The magnetic hold the base has on the screen is strong enough to hold up to movement, but we wouldn't suggest swinging it around your head. It snapped off easily, but the base does a good job of holding it in place when bumped or tapped. The Miix is sleek, modern, and highly portable. We also really enjoyed the seamless efficiency of Lenovo's Miix. Watching a video, we simply snapped the screen off and began walking to other parts of the room. The video never missed a beat or stuttered, and the magnetism didn't ask us to struggle with taking it off.
Devices like the Lenovo Miix are polarizing, but we'd strongly urge you to take a look at one if you're in the market for a new device. It has the added benefit of being both a tablet and computer, and looks smart as either. It offers a better form factor than a tablet with aftermarket keyboard, and you don't have to worry about pairing. We're impressed by Lenovo here at CES 2014, and the Miix is one of the major reasons why.