Lenovo Yoga C940 Review: A shiny and flexible metal laptop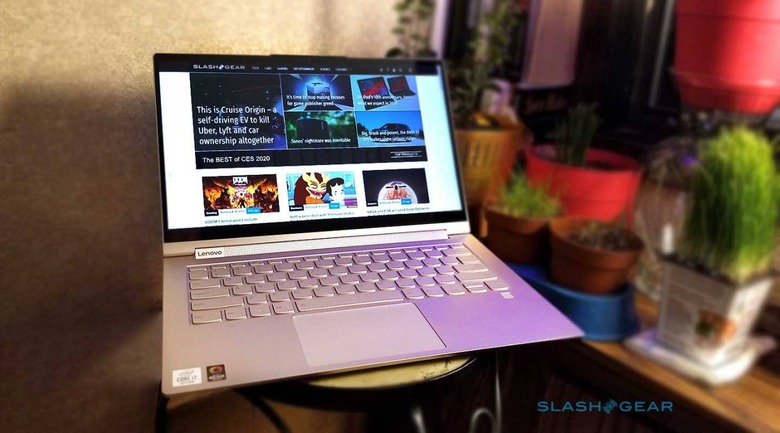 Lenovo has expanded its Yoga 9 Series with a sleek new all-metal ultrabook called the Yoga C940. This laptop has an attractive silver body and a unique rotating soundbar built into the hinge, offering audio quality above what you'd usually get from a laptop. There's a lot to like about this slim notebook, particularly if you're a frequent traveler in need of a premium, durable and highly flexible laptop.
The Yoga C940 ultrabook is very impressive from the moment it is removed from its packaging. The all-metal body makes this Yoga laptop feel like a truly premium product, one that can withstand the rigors of daily use and life on the road. The laptop's lid closes nearly seamlessly onto its base; the edges are perfectly flat with rounded corners, meaning there are no issues with discomfort while typing.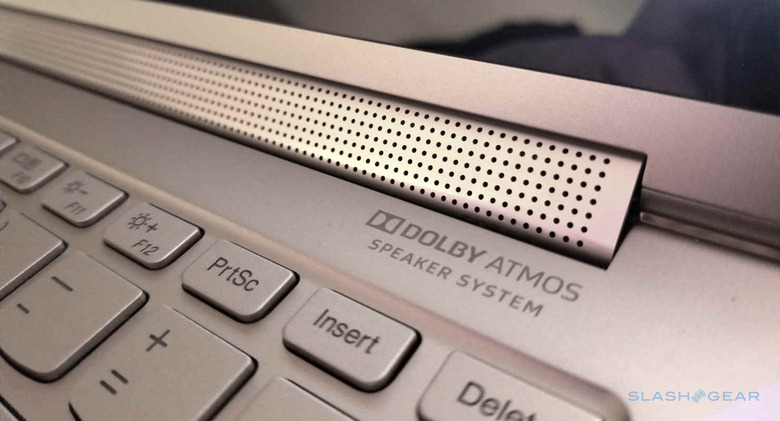 The design is minimalist without sacrificing in the area of usability. The right edge of the laptop is only blemished with the pill-shaped power button built flush with the edge of the base. The laptop's left edge features three USB ports, two of which are USB-C, as well as the headphone jack. The front of the lid features a small lip for gripping to open it; this area has a subtle 'YOGA 9 SERIES' logo etched into the metal.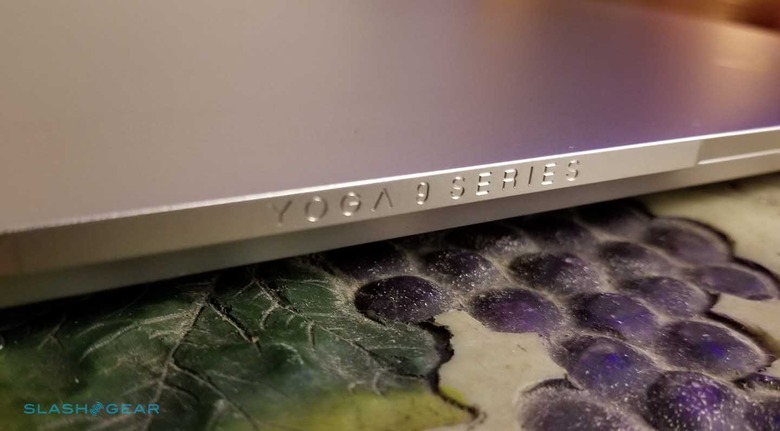 Though the laptop's design doesn't make a show of itself, there is one element that will catch attention: the long dot-style speaker grille that covers the soundbar built into the model's flexible hinge. This unique audio system eliminates the muffled audio issue many laptops have and produces relatively clear, loud sounds that are heard around the laptop. The bass response is low, as you'd expect from a notebook, but it is present; the C940 definitely doesn't produce tinny audio.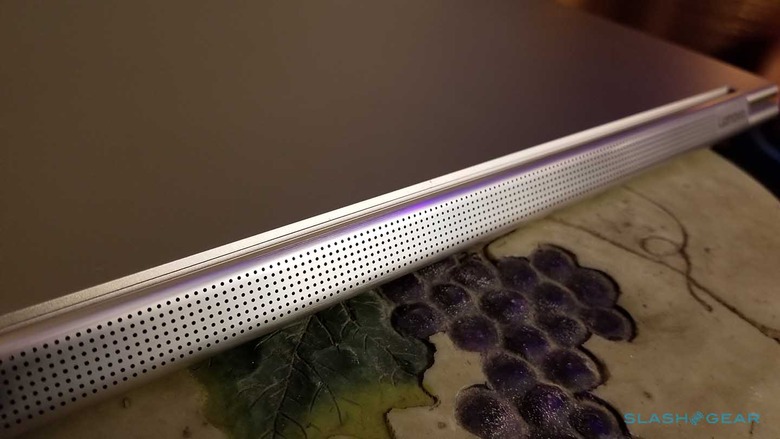 The C940 likewise features a thin bezel surrounding the 14-inch display, of which two options are available: Full HD and 4K. Each panel comes with its own benefits. The Full HD panel meets the needs of the average user, extending the battery life by several hours; the 4K display offers superior graphics for photographers and other professionals, but comes with the cost of shorter battery runtime. We had the opportunity to evaluate both the FHD and the UHD displays and found both to be bright and crisp, though it goes without saying that the 4K panel offers the best graphics.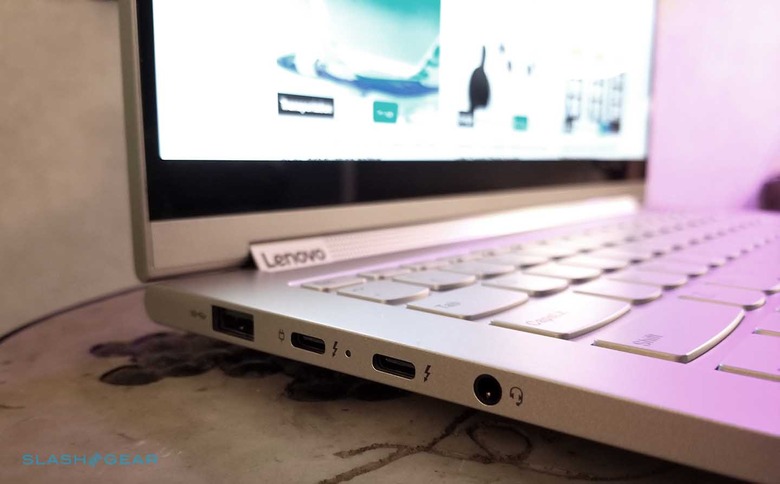 Design aside, Lenovo has packed a large number of features into this ultrabook. Hidden nearly imperceptibly into the rear corner of the laptop's base is a small stylus that slides in to sit flush with the edge of the laptop. I personally had trouble popping the stylus free using my fingernail, but it was easy to retrieve it using the end of some other small accessory like a pen or key. People who have longer fingernails than I do likely won't share in this struggle, however.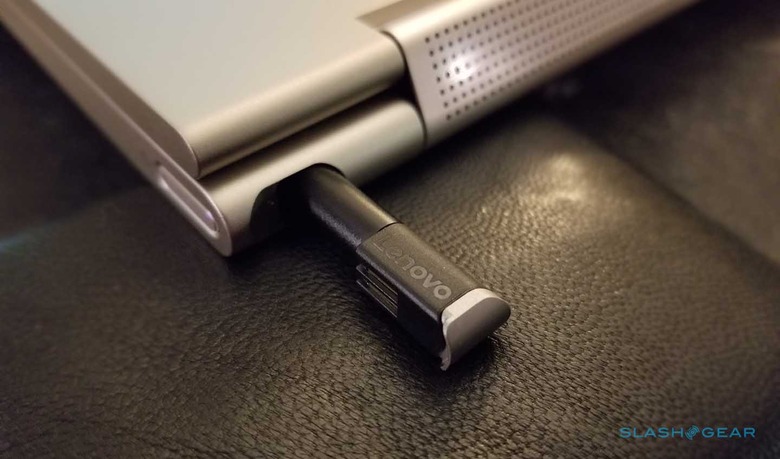 Particularly commendable is how well-built the Yoga C940 feels overall. Unlike many slim ultrabooks I've reviewed in recent months, this model's base has nearly zero give when I attempt to flex it, meaning users don't have to worry about keeping it on a flat surface to prevent accidental trackpad clicks or other annoyances associated with a bendy base.
Also notable is that in addition to the fingerprint sensor, the C940 also features a webcam privacy shutter. This shutter is integrated so well into the laptop's bezel that you cannot tell it is there unless you physically feel its small protruding grip. This helps maintain the premium, seamless design of the carefully machined metal and the slim bezels.
Software & Performance
It goes without saying that one must have modest performance expectations when it comes to an ultrabook and the Yoga C940 is no exception. This laptop performed without issue as a daily business notebook — it handled multitasking between several apps, streaming, and image editing like a champ.
As the benchmarks below show (and depending on configuration, of course), the C940 performs well for an ultrabook, likely outperforming your older business PC but not coming anywhere close to the level of gaming laptops. You shouldn't get this model with the expectation of gaming (beyond something simple like Minecraft, perhaps), but it's great for getting office work or schoolwork done.

Our review unit features a 10th-generation Intel Core i7-1065G7 processor and 16GB of RAM. Lenovo offers this model in several configuration options, including ones that feature the lesser 10th-gen Intel Core i5-1035G4 processor with 8GB and 12GB RAM options; storage ranges from 256GB to 1TB. All configuration options feature the Intel Iris Plus Graphics, a backlit keyboard, style, 720p webcam, and fingerprint reader.
As for battery life, that depends entirely on whether you get the C940 model that features the Full HD or the 4K display. The Full HD display will allow you to squeeze more than a dozen hours out of the model, potentially more than 15 depending on how you use it, whereas in my experience you'll struggle to get past 12 hours with the Ultra HD display, 10 if you're not careful with how it's used. However, that's still quite a long run time and sufficient for many users, making the display upgrade worth it.
Things we like
Looking for a quick list of the Yoga C940's best features?
- The fingerprint sensor is in a convenient location. With the square right below the keyboard, you'll be able to quickly authenticate the laptop and get back to work, no awkward fumbling necessary.
- The inclusion of a USB-A port. Many ultrabooks have gravitated toward designs that only include USB-C ports; the addition of one USB-A port means you'll be able to use many of your existing cords without a dongle. Keep in mind, though, that this laptop is missing an SD card slot.
- The stylus is always ready to use. When tucked away into its slot in the laptop's base, the active pen is automatically charged and is ready to use the next time it is needed.
- The keyboard is very solid. Despite have low-profile keys, you can expect some satisfying (but not obnoxious) clicks when typing. Lenovo has mastered the art of laptop keyboard design.
- Long battery life. Even with the 4K display option set to a high brightness level combined with streaming music and multi-tasking between apps, you can expect to get a full workday of activity out this laptop (unless you try to do something crazy like play a game).
Things we don't like
The C940 is a great little ultrabook, but it's not without minor issues.
- The long speaker grille introduces an element that will no doubt collect dust and other bits of debris over time. This could mean having to pull out the canned air more often than usual to keep the small holes from filling with fuzz and that may annoy some users.
- Though the model has a webcam, it doesn't feature an IR camera, which means you can't use facial recognition to sign into this laptop. The C940 does feature a fingerprint sensor, however, so there is an option for biometric security.
- Finally, the C940 doesn't feature a dedicated video output, which means you will need to carry around an adapter if you plan to use an HDMI or DisplayPort monitor or TV. Whether this is a problem depends on how you generally use your laptop, but it could be inconvenient if you're about to start a presentation and you've forgotten the adapter.
Wrap-up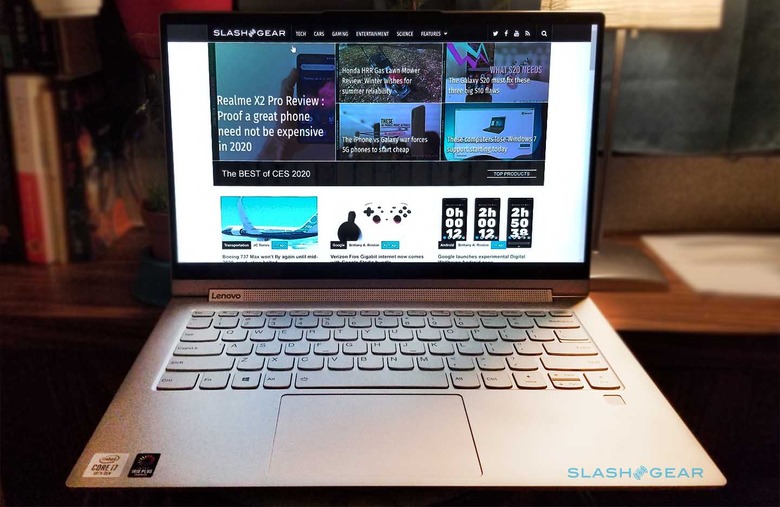 The Lenovo Yoga C940 is an attractive all-metal ultrabook with the same flexibility as its Yoga siblings. Users can expect an excellent combination of style, performance, battery life, and functionality, as well as some advanced features like a built-in stylus, fingerprint sensor, and the very unique rotating soundbar. Though the 4K version of the laptop comes with a hit to battery life, the display is a great option for photographers and other graphics professionals.
The Yoga C940 is available from Lenovo now starting at $1,099.99 USD.