Lenovo YOGA 900S Review -- redefining what 'luxury laptop' means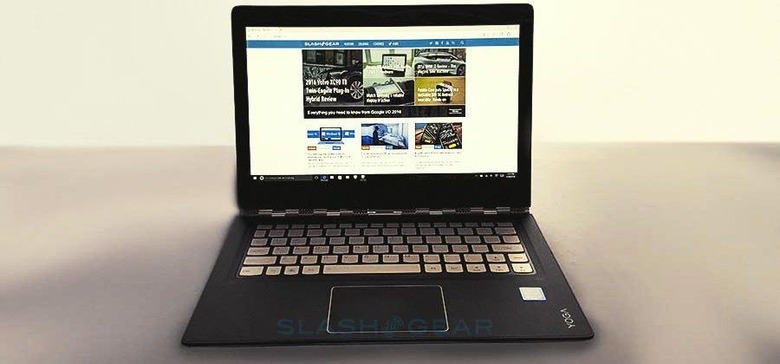 Lenovo's YOGA products come in a variety of flavors, and few are as complex and appreciable as the YOGA 900S. This convertible system features Lenovo's beautiful watchband hinge coupled with an especially thin body and more than 10 hours of battery life. There's a lot to like about the 900S, and that's understating things. What do we love most about the newest YOGA? Read our review to find out!
Hardware
The first thing you notice when taking the YOGA 900S out of its box is how incredibly, almost impossibly light and sturdy it is. The laptop is no thicker than my ink pen when closed, and slims down to about a pencil's diameter when the lid is open. The exterior is smooth, unassuming, and elegant; the interior is unabashedly luxurious. Nothing drives the point home quite like the watchband hinge, though, equal parts exceptionally stable and refined and unlike any other laptop hinges out there.
To state it simply, the Lenovo YOGA 900S is gorgeous.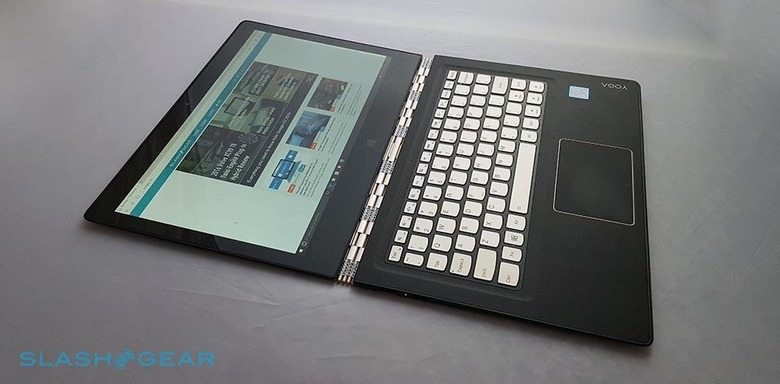 The 900S is half an inch thick and it weighs 999 grams, which is a bit over two pounds. The laptop is made from carbon fiber, as well, for durability. The hinge enables full display movement freedom, as we'd expect with a YOGA laptop; you can arrange it in regular laptop mode, stand, tent, and tablet modes.
The interior surface around the keyboard is nicely textured with a distinct grain, giving it something akin to a leather texture (though it isn't leather). The outer edges are black and smooth, while the lid and bottom panel are smooth and, in our case, gold-colored.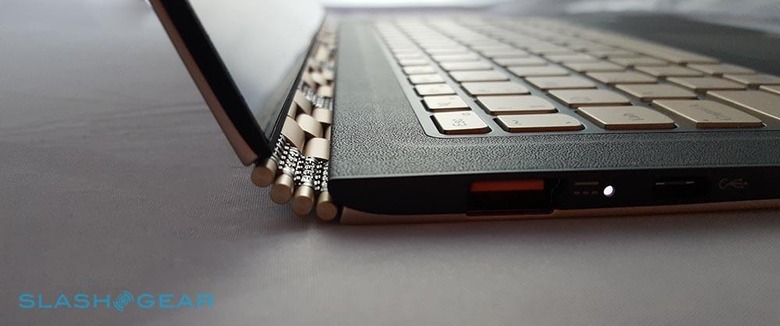 The display is beautiful in its own right, bringing a QHD resolution on an IPS panel. The screen's high quality goes well with the Lenovo Active Pen (not included with the laptop), which offers 2,048 levels of pressure for hand writing and sketching. The screen is very responsive to touch and writing; if you're looking for a convertible lapto that can be used as a drawing slate or for taking notes, the 900S will serve you well.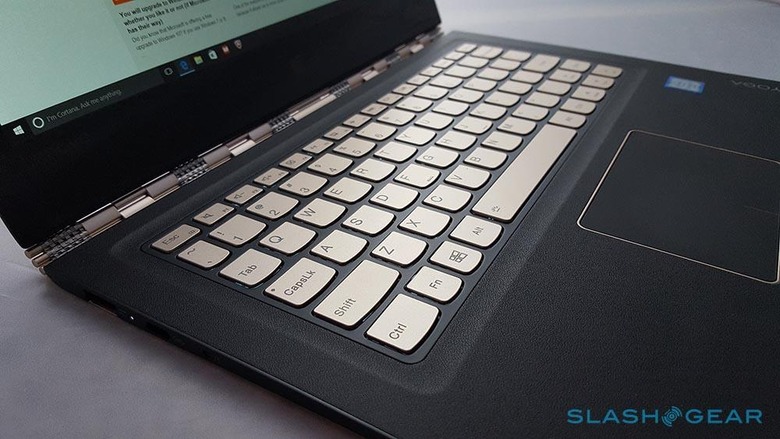 TECH SPECS

Processor: Up to 6th Generation Intel® Core™ m7 Processor
Operating System: Windows 10 Home
Graphics: Integrated Intel® HD Graphics
Memory: Up to 8 GB LPDDR3
Webcam: 720p
Storage: Up to 256 GB PCIe SSD
Audio: Stereo Speakers with Dolby® Audio Premium
Battery:

FHD: Up to 12 Hours Local Video Playback

QHD: Up to 10.5 Hours Local Video Playback

Display: Up to 12.5" QHD (2560 x 1440) IPS, Touch Display
Dimensions (W x D x H):

(inches) : 12.01" x 8.19" x 0.5"

(mm) : 305 x 208 x 12.8

Weight: Starting at 2.2 lbs (999g)
WiFi: 2 x 2 802.11 a/c, Bluetooth® 4.0
Connectors:

1 x USB 3.0 (Type A)

1 x USB 3.0 with Video-out (Type C)

1 x DC-in with USB 2.0 Function

Audio Combo Jack
Software & Performance
Lenovo includes half a dozen of its own applications on the 900S: OneKey Recovery, Companion 3.0, Photo Master, SHAREit, REACHit, and WRITEit. As well, the laptop includes a 30-day trial of McAfee LiveSafe.
Performance was excellent, but will of course vary depending on your hardware configuration. Lenovo has two varieties up on its website, one with a 6th-gen Intel Core m5-6Y54 1.10GHz processor, and another with the 1.20GHz m7-6Y75 processor. They have the same Intel HD Graphics 515, but the most expensive model has 8GB of RAM instead of 4GB, and a 256GB SSD instead of 128GB.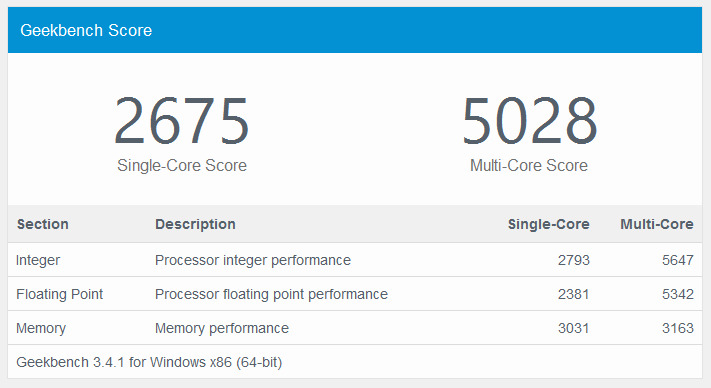 Battery life is highlighted as one of the YOGA 900S' most notable features, with Lenovo saying you can get up to 10.5 hours of battery life. You'll see that number dwindle if you're maxing out the screen brightness while playing videos and such, but it is mostly accurate in best-case-scenario usage. The battery life is surprising given how thin and light the laptop is; it'll get the average user through a work or school day without having to stop and recharge, a necessity for many on-the-go users.
Conclusion
Lenovo has a lot of bland laptops (and many stylish ones, too), but that's not because it isn't capable of more. If you need a no-frills all-black design, they have you covered. If that's not your thing, though, if you want a laptop that stands out from the crowd and makes itself known with no shortage of elegant beauty, the Lenovo YOGA 900S is the laptop you've been waiting for. It's not a powerhouse, of course. It doesn't try to be. For most people, it's exactly what they need in wrapped up in a package miles above what they wanted.
The Lenovo YOGA 900S is available from Lenovo's website starting at $1,099.99 USD.