Lenovo YOGA 900S: hands-on with 'world's thinnest convertible laptop'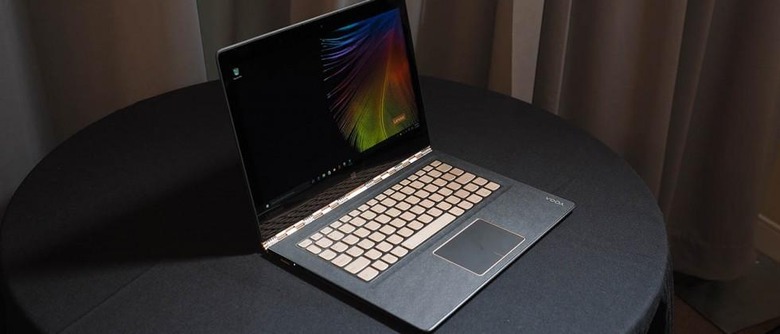 Lenovo has a slew of new products that cover just about every need, but standing chief among them all is its' latest beauty, the Lenovo YOGA 900S. The laptop's watchband hinge and golden keys immediately catch attention, but the laptop's most notable feature is its' insanely lightweight design — something made possible in part by the use of carbon fiber. Says Lenovo, this is the "world's thinnest convertible laptop."
We recently got our hands on the YOGA 900S, and it is indeed incredibly light — so much so that it makes a spiral-bound notepad feel heavy. The laptop is very thin, as well, and of course it bears the same YOGA flexibility as its other YOGA-branded brethren. The watchband hinge allows the display to fold all the way back into tablet mode, or to various degrees between that and "laptop" mode.
Overall, the YOGA 900S measures in at 12.8mm thin (about half an inch). That doesn't come with a compromise to battery life, though, as the YOGA 900S boasts up to 10.5 hours of video playback on a charge. The overall product feels every bit as premium as it is thanks in part to the 2560 x 1440 (optional) display and Dolby Audio Premium sound.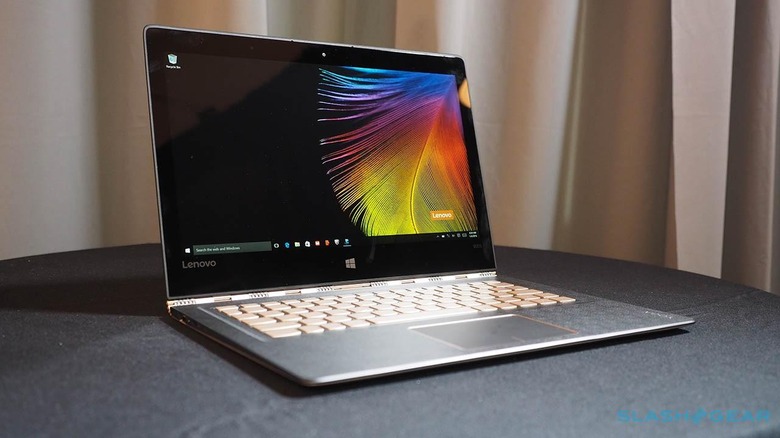 The convertible notebook is available with up to a 12.5-inch QHD display and an Intel Core m7 processor, 8GB of RAM, and a 512GB SSD. Graphics are via Intel HD integrated graphics, while audio is delivered through stereo speakers alongside Dolby Audio Premium. As well, the laptop supports an optional active pen that enables scribblers and proper artists to manually write and craft content.
Other features include a single USB 3.0 type A port and a USB 3.0 Type C port with video out, DC-in with USB 2.0 support, and a combo audio jack. Connectivity comes via Intel 2 x 2 802.11AC and Bluetooth 4.0. The YOGA 900S will be available in March starting at $1,099 USD.