Lenovo YOGA 710 Review: an attractive everyday laptop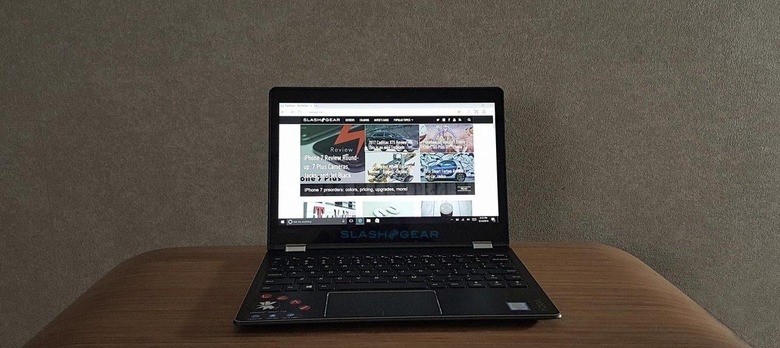 EDITORS' RATING: 7/10
Between the world of YOGA tablets and ThinkPad business laptops lie an array of beautiful 'everyday' Lenovo laptops that could meet the casual needs of just about anyone: students, travelers, web surfers, casual gamers, small business owners, whomever. The Lenovo YOGA 710 is one such laptop; it boasts a slim and lightweight body that has a beautiful — if not modest — design. This model is a somewhat pricey YOGA option, though, and some may wonder whether it is worth getting over, for example, the similarly priced IdeaPad 300S or other YOGA models. Find out in our full review!
Hardware
The Lenovo YOGA 710 is an ultrabook, no doubt, thanks to its combined light weight and thin magnesium/aluminum body. This particular model is available in a few different sizes — my review is of the 11.6-inch Full HD model, but you can get the YOGA 710 with up to a 15-inch display. The 11.6-inch version, in my opinion, is a great size — it is small enough to be highly portable but not so small that usability suffers; typing on the keyboard feels no different than typing on my regular 13-inch laptop.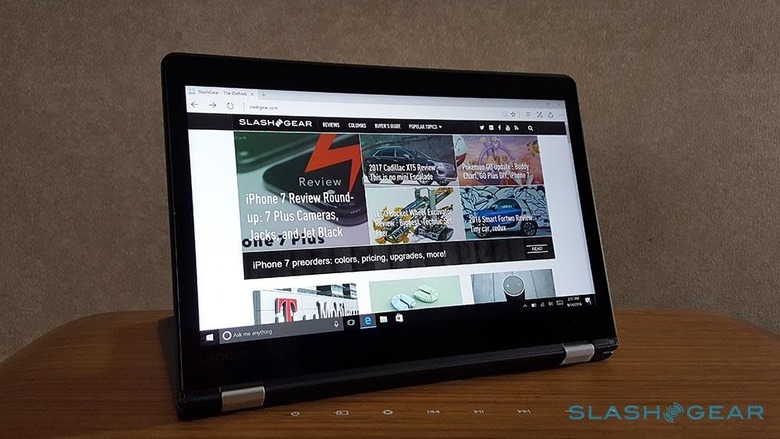 The YOGA 710 features the same 360-degree hinge you'll find on other YOGA products, enabling the user to fold the screen back all the way into "tablet" mode or any angle before that point. This comes in handy if you're, for example, wanting to draw on the touchscreen — just fold the display all the way back so that the lid is flat against the laptop's bottom. If you want to watch a movie, you can instead fold the screen back halfway and put the laptop in "stand" mode, leaving the screen visible but hiding the keyboard.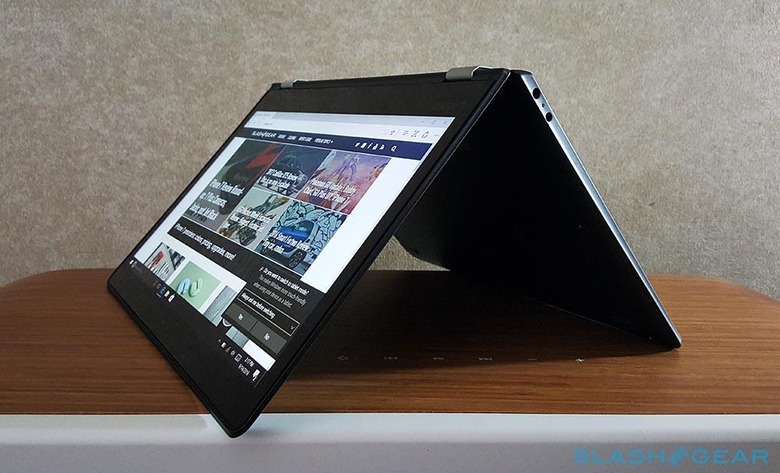 This may not seem like something you'd find much use for, but it really is useful, particularly paired with the touchscreen display. That touch functionality is sensitive and, combined with the display's saturated colors and crispness, a nice option for editing photos using a stylus or sketching in an art app.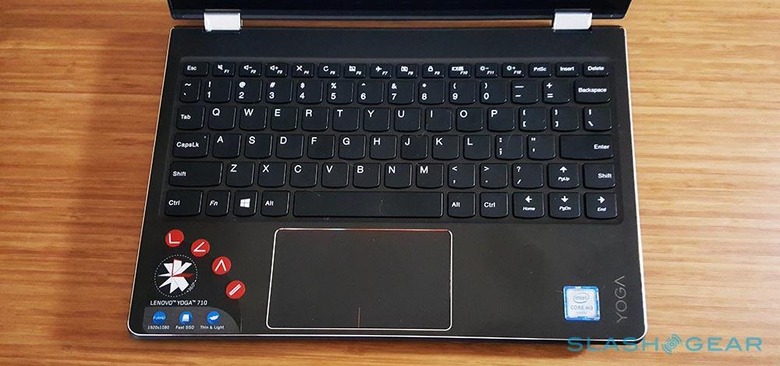 Beyond that, the YOGA 710 is a pretty ordinary laptop. The keyboard is low-profile and, like most Lenovo laptops, very nice for typing. The trackpad is sufficiently large and provides a physical clicking sensation when pressed. The bezels around the display are definitely present but not overtly large. The speakers, meanwhile, are located on the underside of both front corners and are the only really negative aspect — they sound very tinny, so you'll want keep a pair of earbuds handy for anything more than casual listening. Another potential downside is the maximum 300nits screen brightness, which feels a little too dim in some situations.
TECH SPECS

Processor: Up to 6th Generation Intel® Core™ m5 Processor

Operating System: Windows 10 Home

Graphics: Integrated Intel® Graphics

Webcam: 1 MP Fixed Focus CMOS Camera (720p)

Memory: Up to 8 GB LPDDR3

Storage: Up to 256 GB SSD

Audio: Dolby Audio™ Premium

Battery: 40 WHr; Up to 8 Hours Local 1080p Video Playback at 200 nits

Display: 11.6" Full HD (1920 x 1080) IPS Touch, 300 nits

Dimensions (W x D x H):

– (inches) : 11.06" x 7.68" x 0.59"

– (mm) : 281 x 195 x 14.9

Weight: Starting at 2.3 lbs (1.04 kg)

WiFi: WiFi 1 x 1 ac

Bluetooth: Bluetooth® 4.1

Ports:

– 1 x USB 3.0 (always-on)

– Micro HDMI™

– Audio Combo Jack
Software & Performance
Performance obviously depends on what laptop configuration you go with, and so I can only speak to my experience with this 11-inch review unit. I used the laptop to do all my usual computing activities — many-tab web surfing, juggling between a few different apps, watching videos and performing basic photo editing. The laptop was great for all of these activities, and didn't at any point feel underpowered or lacking. I didn't run into any trouble leaving a portable photo editor running while browsing, nor having a dozen or so tabs open at once.
Battery life is also great, with the YOGA 710 taking me through a full 8-hour workday (with charge to spare) after being fully charged. That makes the 710 a viable option for travelers, as the average person could probably go a full day without having to find an outlet.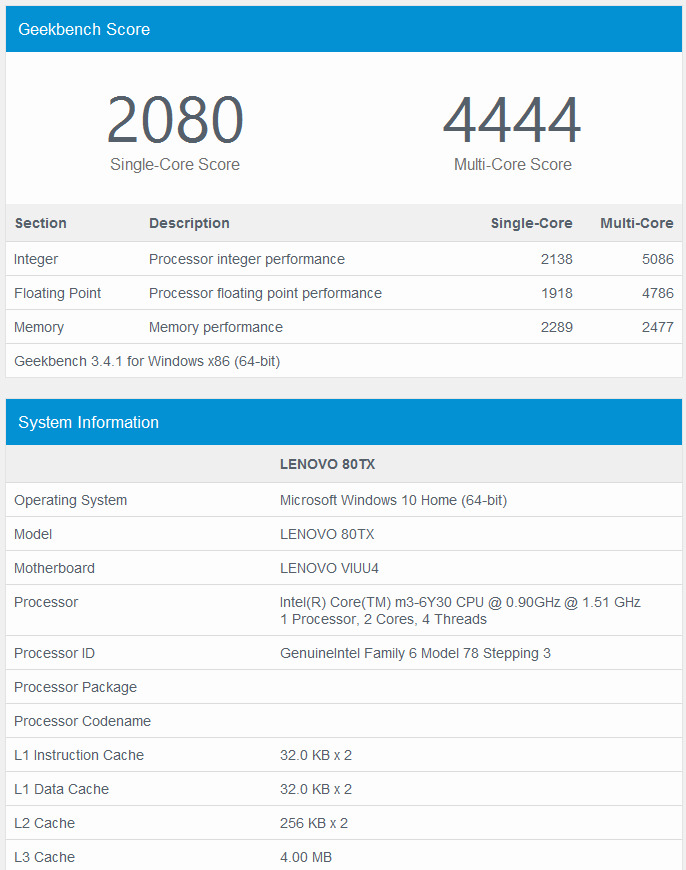 The YOGA 710 comes with a lot of Lenovo applications on it, as well as trials of some other software. You get the following Lenovo applications: CCSDK, Lenovo Companion 3.0, Lenovo Experience Improvement, Lenovo ID, Lenovo Photo Master, Lenovo REACHit, Lenovo Settings 3.0, Lenovo SHAREit, Lenovo OneKey Recovery, and Lenovo Solution Center. In addition, the laptop comes with a trial of McAfee LiveSafe and a trial of Microsoft Office 365.
Conclusion
The Lenovo YOGA 710 is one of those laptops you get when you want something lightweight and nice looking, you need a decent amount of power but also good battery life, and you don't want to entirely break the bank but you're looking beyond the budget tier. The laptop really is very nice looking, so much so that the design's probably chiefly responsible for first attracting prospective buyers. As with many YOGA products, though, it is more than just a pretty face and the model is well suited to meet most buyers' needs.
Price starts at $549 USD on Lenovo's website. At this price point, it is worth noting that there are several other similar laptops available through Lenovo that may in some way be better for your needs; you can check out our other Lenovo reviews in our Laptop Reviews portal!