Lenovo Yoga 2 Pro Hands-On: Refining The Multi-Mode Flagship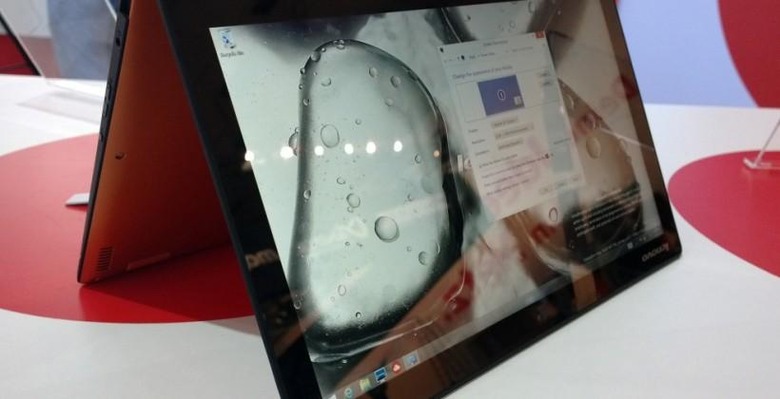 Lenovo has built upon its original Yoga foundation with the Lenovo Yoga 2 Pro, a so-called multi-mode notebook that will be familiar to anyone who got their hands on the original model. We got some hands-on time with the laptop here at IFA 2013 and have returned with a gallery and our impressions of the next-generation device.
What we have with the Lenovo Yoga 2 Pro is essentially a more refined version of the original Yoga. In terms of design, the Yoga 2 Pro looks and feels about the same as the original, but brings along some improvements that will please those looking to upgrade their device, among this being a higher resolution display and a backlit keyboard.
The Yoga 2 Pro is both lighter and thinner than the previous iteration, coming in at 0.61 inches and 3.06 pounds. The display's specifications have been boosted, with the screen being a 13-inch panel with 10-point multi-touch and a higher resolution of 3200 x 1800 QHD+. Above the screen is a 720p HD camera that works in conjunction with motion control for doing such activities as ebook browsing and flicking through photographs.
Under the hood, the Lenovo Yoga 2 Pro runs on Intel HD graphics and has an option for up to Intel's Haswell fourth-generation Core i7 ULT processors. Other hardware options include up to 8GB of DDR3L RAM and up to a 512GB SSD. Audio has also seen an improvement with the use of Dolby Home Theater tech and a Dual Array Digital Mic.
Overall, this is a solid refinement of an already solid device, and those who enjoyed the original model will find the changes a nice step up. Availability is slated for October, with the price currently said to be $1,099.99, though Lenovo warns it may change by launch.