Lenovo X300 ultraportable uses Samsung SATA II Solid State Drive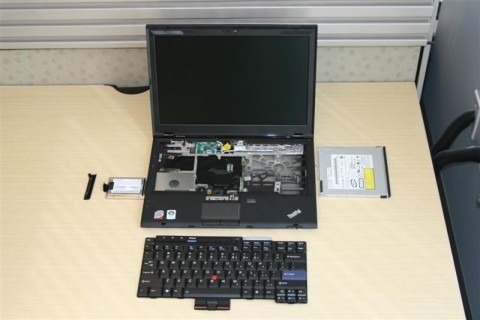 Lenovo's much-vaunted ThinkPad X300 is being hailed in some circles as the ultraportable to oust the MacBook Air, and a major chunk of its charm is the use of a Solid State Drive (SSD) rather than a traditional drive that can be subject to knocks and jolts.  Samsung provided the SATA II SSD used, with the specific model capable of 100 MB/s read rates and 80 MB/s write rates, despite using 30-percent less power than a typical platter-based drive. 
"Lenovo's use of a SATA II SSD as the only storage device for its premium ThinkPad X300 notebook underscores its commitment to performance excellence.  With the Samsung SATA II SSD, Lenovo is delivering the highest performance rates for rugged, ultra-light storage in an ultra-portable notebook" Jim Elliott, VP, memory marketing, Samsung
The Samsung SSD operates up to 60-percent faster than SATA I drives and to to five times faster than a conventional hard drive; it contributes just 73 grams to the X300's 2.9 pound total weight. 
Most impressively, perhaps, is the fact that the silent, virtually heat-free drive can resist up to 1500 G's of shock in a half-millisecond.