Lenovo X260 Laptop Review: Insanely long battery life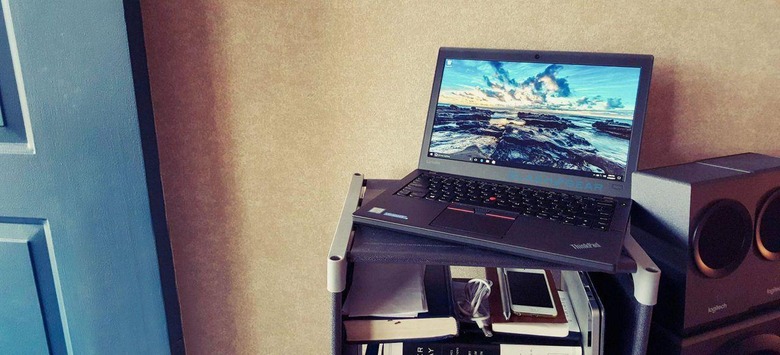 We may receive a commission on purchases made from links.
If you liked Lenovo's X250 laptop, you'll love its newer X260 model. All the best things about the X250 are back in Lenovo's X260, including the crazy long battery life that can, in some cases, get users through a full day of work with charge to spare. As you'd expect, though, these two models aren't entirely alike, and those who pick up the X260 are getting a newer beast. Is it worth the upgrade? Read our review to find out!
Hardware
If you've ever held the X250, you'll find the X260 looks and feels very, very similar. The somewhat small 12-inch laptop's frame is black with that iconic business-chic ThinkPad look, the texture vaguely soft, and the keyboard is exactly what we've come to expect from a ThinkPad. The trackpad boasts a trio of physical buttons, and as always, there's the small red TrackPoint nub included for those who simply refuse to love to learn the trackpad.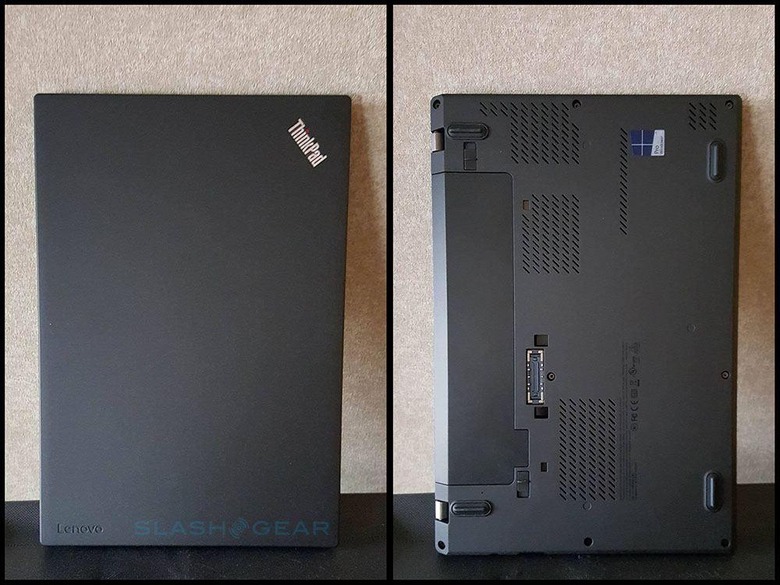 A generous array of ports line both sides of the ThinkPad X260, including a trio of USB 3.0 ports (there's no USB-C on this model), Ethernet, a mini DisplayPort, and more. There's a webcam nestled in the bezel above the display, a power button positioned to the side of the keyboard, and, depending on which secondary offering you use, a battery jutting out of the bottom of the machine.
The X260 is described as an ultrabook by Lenovo, though it should be noted that it doesn't have the common ultrabook tapering at the front edge like the X1 Carbon or MacBook Air. Rather, this ThinkPad is completely square in shape, with flat sides and slightly rounded edges.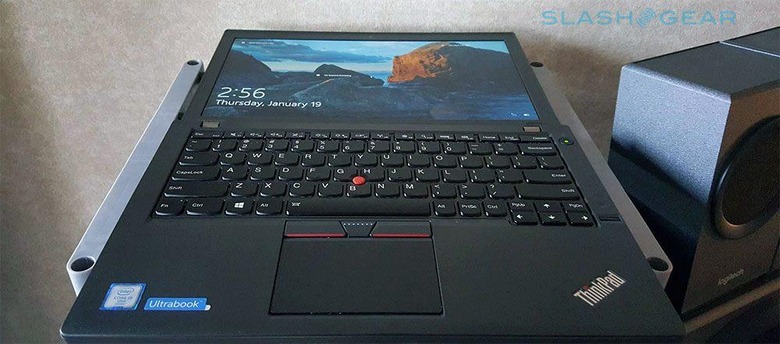 Overall, the laptop's profile is only 0.8-inches at its thicket point, and the weight starts at 2.9lbs. While it's not the thinnest or lightest laptop on the market, it is no way heavy or cumbersome. The small size is welcomed for travelers and others who frequently slip their laptop into a bag and under a plane seat.
This ThinkPad, like most of them, have a love-it-or-hate-it design; personally I find it endearing. It's definitely a no-nonsense design, quite unlike the Yoga 910 and other more luxurious, flashy models. That's perfectly fine, though, if you simply care about getting down to work and all of the things that aid you in working.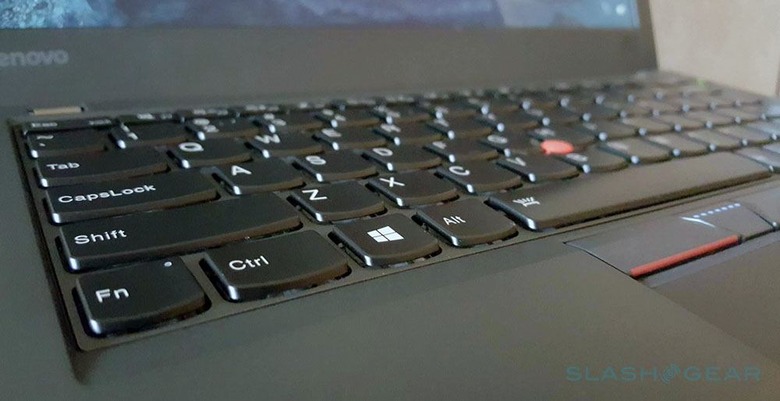 Notably, the ThinkPad X260 includes MIL-SPEC durability, and was tested across many different categories, including pressure, salt fog, vibration, sudden temperature changes, high temps, low temps, dust, and even fungus. Needless to say, the laptop can probably hold its own through many overhead bins and trunks if you travel frequently for work.
The keyboard is the same variety found in the X250 and most other ThinkPad models — the keys are reasonably low-profile with a soft report and moderate amount of resistance. The trackpad is high-quality, and doesn't skip or have any tracking issues.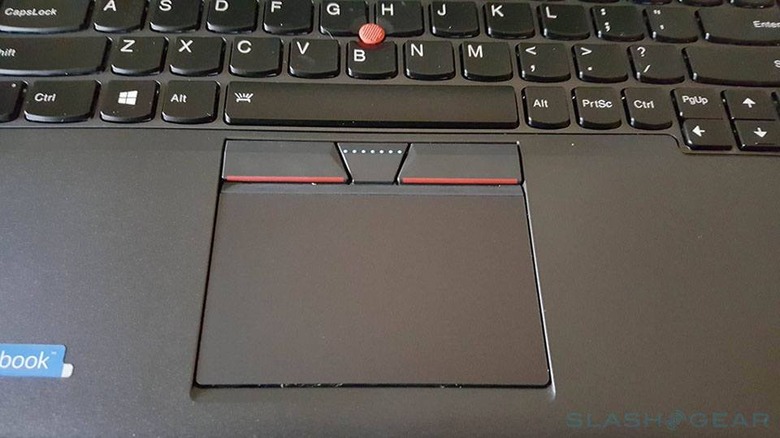 This is all joined by the 12.5-inch display, of which three options are offered: a disappointing 1366 x 768 TN display at 200 nits brightness, an IPS display with the same resolution at 300 nits brightness, and a Full HD 1920 x 1080 300 nits IPS display.
Tech SpecsProcessor

- Intel® Core™ i7-6600U Processor

- Intel® Core™ i5-6300U Processor

- Intel® Core™ i5-6200U Processor

- Intel® Core™ i3-6100U Processor

Operating System:

- Windows 10 Home

- Windows 10 Pro – Lenovo recommends Windows 10 Pro

- Windows 7 Professional – Preinstalled through downgrade rights in Windows 10 Pro.

Graphics: Intel® Integrated GraphicsMemory: Up to 16 GB DDR4Camera: 720p HD CameraStorage:

- HDD (500 GB / 1 TB) 5400 rpm

- SSD (128 GB / 192 GB / 256 GB OPAL2 / 512 GB SATA)

Audio: Dolby® Advanced Audio™ v2Battery: Up to 21.4 Hours (3+6 cell 72 WHr)Display:

- 12.5" HD (1366 x 768) TN, 200 nits

- 12.5" HD (1366 x 768) IPS, 300 nits

- 12.5" FHD (1920 x 1080) IPS, 300 nits

Dimensions:

- 12.03" x 8.21" x 0.8"

- 305.5mm x 208.5mm x 20.3mm

Weight: Starting at 2.9 lbsPorts:

- 3 x USB 3.0

- RJ45

- Mini DisplayPort

- HDMI

- 4-in-1 Card Reader

- 3.5 mm Microphone / Headphone

- Smart Card Reader (Optional)

WiFi: Intel® Snowfield Peak 2 WiFi 2 x 2 802.11 a/c with Bluetooth® M.2 (vPro™)WWAN:

- Integrated Mobile Broadband upgradable

- Sierra Wireless EM7455 (coming soon)
Software & Performance
The ThinkPad X260 laptop comes with four processor options, the Intel Core i3-6100U, the Intel Core i5-6200U, Core i5-6300U, and the Intel Core i7-6600U. The processor offerings are joined by Intel Integrated Graphics with up to 16GB of DDR4 memory and either a 500GB/1TB 5400rpm hard drive or up to a 512GB SATA SSD.
Performance will depend on which configuration you get, of course, but in general the laptop ran very well during testing, and didn't present any troubles. I used it throughout a normal workday, which involved a lot of Web browsing, downloading and uploading, toggling between more than a dozen tabs, moderate photo editing, all while music was streaming. The laptop didn't have any trouble handling this, and got me through the entire day with battery life to spare.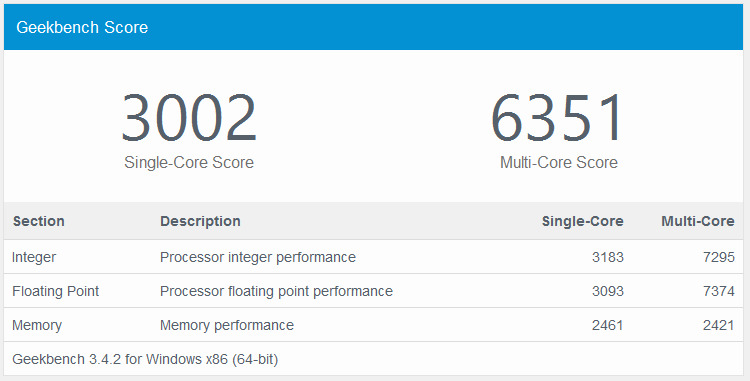 (Review unit features a Core i5-6300U, 8GB RAM, Windows 10 Pro)
That's because the ThinkPad X260, like the X250 before it, has excellent battery life. This is thanks to the external hot-swappable battery that joins the laptop's internal battery. The smaller of the two swappable batteries sits flush with the back of the laptop so that you can't tell it is there until you're looking for it; the larger external battery option protrudes from the bottom of the laptop somewhat, though it doesn't interfere with usage or add any readily noticeable weight.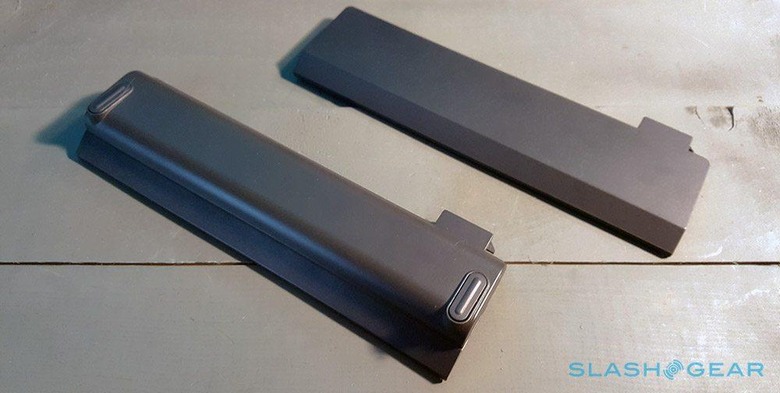 It's important to stress here that the battery life isn't merely long, but is in fact beyond what you'd find on the vast majority of laptops, putting the X260 into a category nearly entirely it's own. With a full charge and the larger of the two hot-swappable batteries, you can go days without charging the laptop under moderate use scenarios. Even using the laptop non-stop during the day, there's a good chance you'll make it to the next morning.
Assuming you have both external batteries, the larger and the smaller one, you can swap in the charged spare after the in-use batteries run low, boosting your run time by another few hours.
Wrap-up
Lenovo has long had a winner with this particular X lineup model, and that truth remains for the X260. There's nothing to dislike about this iteration unless you want a touchscreen display. Laptops are, at their foundation, meant to be portable, and portability depends on two things: a lightweight design and ample battery life. This laptop gets positive marks in both those categories, but especially the latter. Road warriors will find it hard to adjust to lesser laptops after basking in the X260's 20+ hour run time, and that's not a bad thing.
The ThinkPad X260 (2016) model is available from Lenovo starting at $818.10 USD.