Lenovo X1 Carbon (5th Gen) Review: Almost perfect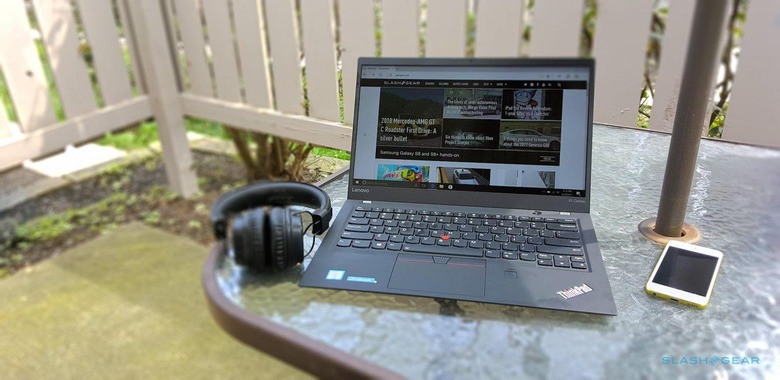 Imagine pulling a laptop out of its box for the first time, only to worry that it may not include a battery due to its insanely light weight. That was my first thought when I retrieved the latest Lenovo X1 Carbon (5th generation) from its box. It's hard to imagine that this laptop is powered by anything other than thin air, mostly because it's hard to imagine there's an entire set of hardware — including a battery, of course — inside this thin and light body. What kind of sacrifices had to be made to produce such a svelte laptop? Surprisingly few, it turns out.
Hardware
Upon removing the new X1 Carbon from its box, there's one impression that reigns chief among them all: this is a very, very light and thin laptop. If there's ever been a laptop that rivaled my MacBook Air — in terms of thinness and weight — it's the fifth-generation X1 Carbon. According to Lenovo, this model is 0.6-inches thick and has a starting weight of 2.5lbs, making it a very slim option for travelers, road warriors, students and more.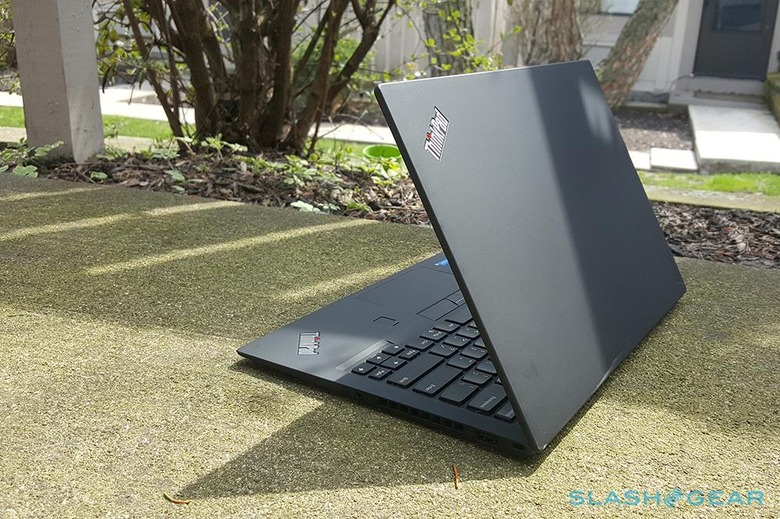 Things get better from there. Open the X1 Carbon's lid, and it glides smoothly on the hinges to reveal a bright matte display with either a Full HD or a WQHD resolution, depending on which option you choose. The bezels are smaller than average, the top edge being wider than the sides to accommodate the built-in 720p webcam.
The display, of course, is accompanied by the keyboard, which is easy to use right off the bat. Unlike some keyboards that require time to adjust to their unusual layout or spacing, the X1 Carbon's keyboard feels natural upon first use. The keys are very quiet at normal typing speeds, though they don't feel soft. When turned on, the backlight glows around the edges of the keys.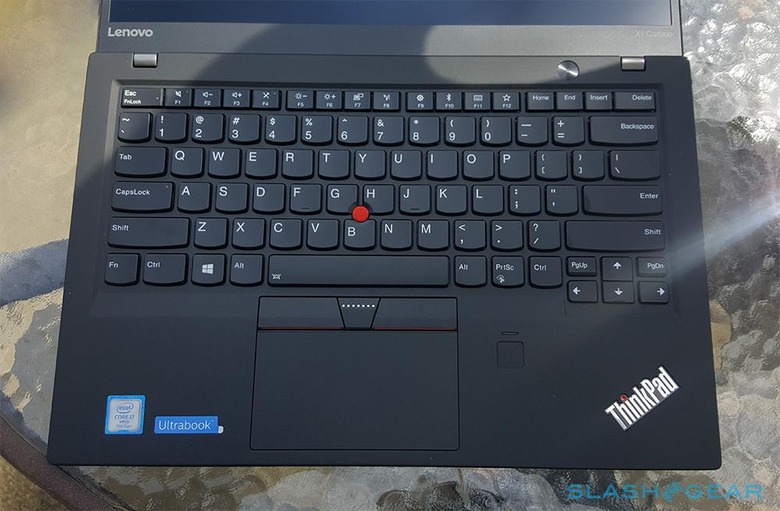 The trackpad follows in the footsteps of past X1 Carbon models, being both large and joined by three physical buttons. Those who refuse to use the trackpad still have the TrackPoint (red nub) in the keyboard as an option.
As far as looks go, the latest X1 Carbon laptop is immediately recognizable, but as a refined offering building up the lineup's foundation to be better than ever. The machine is in no way flashy or gaudy; it is simple, dark, and would fit well in any environment. The exterior texture is smooth to the touch, and there's only one thing to dislike about it: the material picks up fingerprints easily, but it's not simple to wipe them off. You'll have to deal with fingerprints.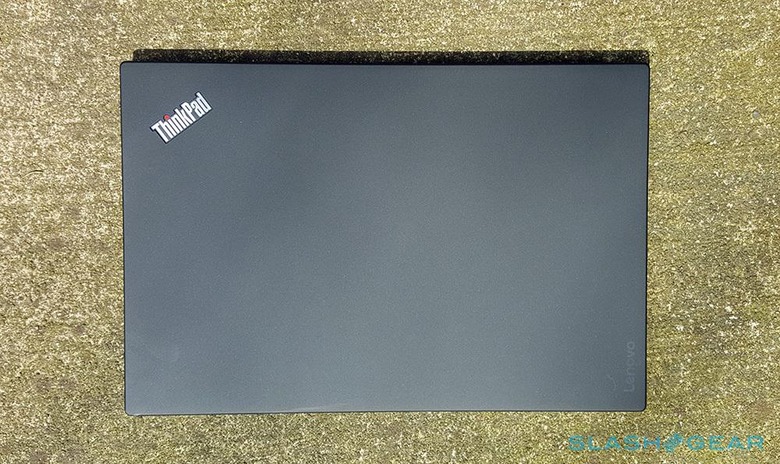 Though we have the black version of the X1 Carbon, Lenovo plans to shake things up by offering a light silver version later on this year. With that model, the laptop body and lid is silver, but the bezels around the display are still black, as are the keys. This is a solid step in shedding the (somewhat unfair) public impression that ThinkPads are boring business laptops.
TECH SPECS
Processor: Up to Intel® Core™ vPro™ i7-7600U processorOperating System: Windows 10 Pro (64 bit)Display:

- 14.0" WQHD IPS (2560 x 1440) 300 nits (available in June)

- 14.0" FHD (1920 x 1080) 300 nits

Graphics: Integrated Intel® HD Graphics 620Camera: HD 720pMemory: Up to 16GB 1866MHz LPDDR3Storage:

- 128 GB SSD SATA

- 256 GB SSD PCIe TLC OPAL2

- 512 GB SSD PCIe TLC OPAL2

- 1 TB SSD PCIe TLC OPAL2

Battery: Up to 15.5 hoursAudio: Dolby® Audio™ PremiumSecurity:

- dTPM 2.0

- Touch fingerprint reader

I/O (Input / Output) Ports:

- 2 Intel® Thunderbolt™ 3

- 2 USB 3.0

- HDMI

- Native RJ45

- MicroSD

- MicroSIM

Connectivity:

- WWAN: Qualcomm® Snapdragon™ X7 LTE-A (optional)

- WLAN: Intel® Dual-Band Wireless-AC 8265 2 x 2 AC + Bluetooth® 4.2

Dimensions: 12.7" x 8.5" x 0.6"Weight: Starting at 1.14 kg / 2.51 lbsColors: Black, Silver
Software & Performance
Lenovo is guilty of packing a lot of bundled software into some of its laptops, but the 5th-gen X1 Carbon isn't one of them. This model is shipped with Windows 10 Pro Signature Edition, which means there are no 'unwanted apps' or trial software, according to Lenovo. Windows is very snappy upon startup; there's no hesitation when loading Web pages or trouble starting applications. Everything runs very well during daily office tasks, such as editing photos, streaming content, and running a browser with a couple dozen tabs open.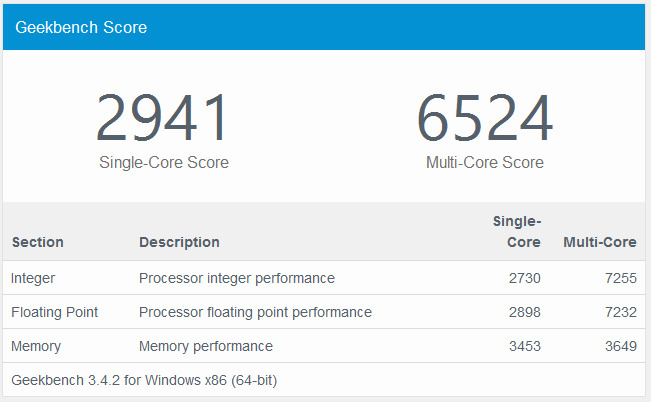 Things We Like
Buckle in, folks: there's a lot to like about this laptop. Lenovo's attention to detail and effort to provide features X1 Carbon buyers are likely to appreciate is apparent from the start. That aforementioned lack of bloatware is one example, as is the inclusion of two USB-C ports.
Thanks to the inclusion of USB-C (alongside a couple regular USB-A ports), users are able to rapid charge the laptop. The internal battery can go from 0 to 80-percent in one hour during rapid charging. Doing so will get you about 12 hours of usage, meaning a single hour at an outlet will get you through more than a full work day.
When you do charge the 5th-gen X1 Carbon to 100%, you can squeeze more than 15 hours of usage out of the laptop before needing to charge again. That looks great on paper, but in practical usage it is something far beyond great. Knowing you can fully charge the laptop in a little over an hour, only to get an entire day's use out of it, redefines what a portable laptop truly is.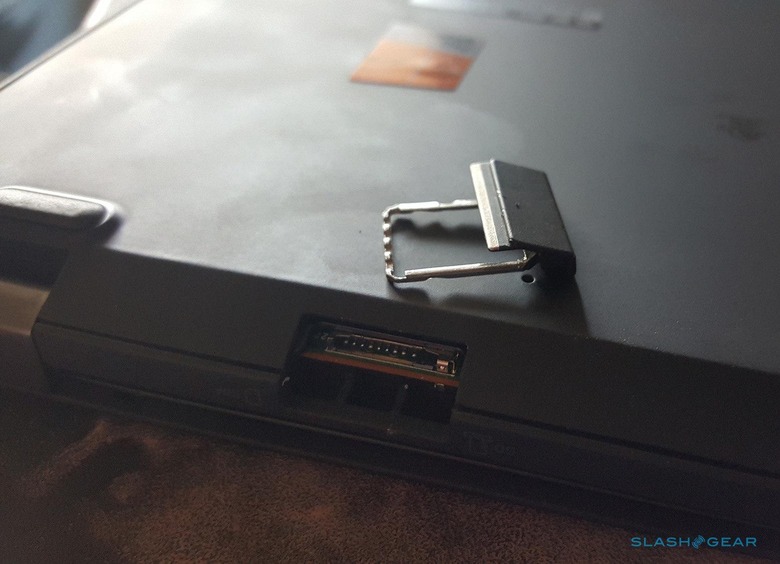 Beyond the battery technology, the newest X1 Carbon wins some points via the inclusion of a SIM card slot. This laptop features Qualcomm Snapdragon X7 LTE-A, a feature arguably necessary in the modern world where connectivity is always needed but WiFi hotspots aren't a guarantee. This feature works exactly as you'd expect — pop out the SIM card cover, insert a microSIM into the tray, then slide it back into place.
Safety is another solid part of the X1 Carbon. Given that this is a high-end laptop designed for business users and similar, it's no surprise Lenovo included a couple biometric options. There's a fingerprint reader, a fairly standard safety feature on most business laptops, and there's also an IR camera for using Windows Hello facial recognition security.
Issues
It's hard not to like this laptop, but it isn't perfect. The only legitimate issue many users are likely to encounter is the lack of a regular (read: full-size) SD card slot. The X1 Carbon does include a microSD card slot, which is nestled directly below the microSIM slot in the same concealed region. Getting to that slot isn't the fastest or most convenient task, though, and so frequently taking the card out and putting it back in will get annoying after a while.
Photographers and others who often deal with SD cards will be well advised to get an SD-to-USB dongle and use that to deal with the media cards. That, of course, means having to remember and carry around a dongle. If that doesn't bother you or you rarely use SD cards, it's a non-issue. For those of us who do use these cards often, it's a stark and disappointing absence in an otherwise excellent laptop.
That aside, and perhaps on a more vain level, the material used for this ThinkPad picks up fingerprints easily and it's just about impossible to rub them out easily. You'll need to break out a wet wipe to properly remove the fingerprint smudges, but they'll be back the next time you pick up the laptop, and so it's a futile battle.
Wrap-up
If you're a fan of any (or all) of the past X1 Carbon laptops, you'll love the 5th-generation update. This model has an 8-percent smaller footprint over the previous model, is lighter and thinner than just about any other ultrabook on the market, and it offers (almost) all of the ports and connectivity options a user could need. Thunderbolt 3 inclusion is a welcomed addition to the model, as is fast charging and the exceptional battery life. As long as you're not dead-set on needing a regular SD card slot, the X1 Carbon would surely meet your (ultrabook) needs.
Price starts at about $1,300 USD on Lenovo's website.