Lenovo W700ds laptop with 10.6-inch secondary display announced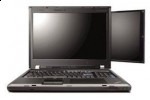 Details of a Lenovo laptop with integrated dual displays have emerged. The W700ds has both the 17-inch CCFL-backlit 1920 x 1200 display from the W700 but adds a second, 10.6-inch LED-backlit 768 x 1280 panel in portrait orientation. Lenovo are billing this as a productivity booster, with an extra 39-percent of space on offer. As with the original W700, the w700ds has an onboard 128 x 80 cm palmrest digitizer, optional RAID and up to an Intel Core 2 Quad Core Extreme QX9300 2.53GHz processor with 12MB of L2 cache.
The notebook supports up to 4GB of Intel Turbo RAM, and has a choice of either a 512MB NVIDIA Quadro FX 2700M or a 1GB NVIDIA Quadro FX 3700M. Storage options include RAID arrays of up to 320GB 5,400 rpm or 200GB 7,200 rpm with full-disk encryption, or non-RAID dual 64GB SSD, among others.
The dual-screen model weighs 4.96kg with one hard-drive, compared to the single-screen model at 3.83kg, and both have WiFi a/g/n, Bluetooth, dual-link DVI, gigabit ethernet, five USB 2.0 ports and three Mini-PCIe slots (two full-sized, one half-sized). Although pricing has not been officially announced, early indications suggest that the preconfigured W700ds will hit the $6712 and $5632 price-points
[via Notebook Review - thanks Alex!]